THE WAIT
THE JESUS GAME
I AM ARMED AND DANGEROUS
SISTER, WALK SLOW
BAM...IT'S A GOD THING
GOD BLESS AMERICA AGAIN
HAPPY BIRTHDAY TO MY GAYLE
Tomb of the Unknown Soldier
THOU SHALT VOTE
A DREAM OF HEAVEN
HAPPY BIRTHDAY DEAR PAT
ONE OF GOD'S KIND
A PATIENT HEART
DELIVER US FROM EVIL
LOOK UP! THE LORD IS WATCHING ME AND YOU!
YOU ARE AN EAGLE
The Sparrow
IT'S HARD TO GO TO HELL
MERLE'S ARRIVAL
YOUR PLACE IN GOD'S HEART
TRY A LITTLE KINDNESS (The Plight of the HOMELESS)
GROWING IN THE SPIRIT
HAPPY FIRST BIRTHDAY TO MY GAVIN
THE WORD RIGHTLY DIVIDED
DIVINE FAVOR (Happy New Year!)
WHAT IF THERE WAS NO CHRISTMAS???
THE TWO-HEADED SNAKE
THE TRUTH
WHEN SICKNESS PAYS A VISIT (For Sandy!)
THE RESTING PLACE (For Kathy)
HAPPY BIRTHDAY PASTOR RYAN
FAITHFULNESS
More Poetry >>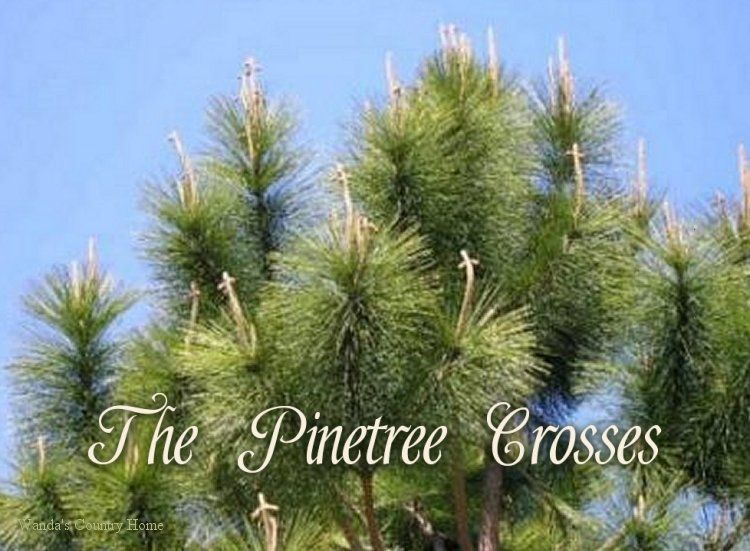 Pine Tree Crosses
"It's drawing close to Easter time,"
A father tells his son…
"You can smell in the air, my boy,
And the Crosses have begun."



"Crosses?" The boy's question dances
Through the father's mind;
"Son, God has spread His Story
On the top of every pine.



See, two weeks before Easter
The pine trees start new growth."
As the boy sat down to listen
Deep peace enveloped both…



"Look up there!" his father's voice
Took on the role of guide,
"The taller shoots are branching off
To cross shorter shoots beside.



See the Crosses they are forming?
They were meant to tell the story.
That Jesus came and Jesus died…
That His Cross is full of glory!!



The pine trees shout it out, my son,
To The Cross we all must go
It's the place we'll find forgiveness…
It's where love and mercy flow."



That boy grew up to be a man
And his father laid to rest
Yet all who heard this story
Walked away feeling so blessed.



Again, it's close to Easter time
And this tale will never stop
Because I just told it to my grandkids
In remembrance of their Pop.

Doris Jacobs-Covington
Easter 2013

~~Dedicated to Shannon and Sorcha
~~



~~Author's Note~~
Although I prefer using Resurrection Sunday
rather than Easter, I realize there are thousands
of Christians who still use the term, just as we still
use the names of months and days of the week
knowing their origin. When I say Easter, I'm referring
to the Resurrection of Jesus Christ from the dead…
that's the only Easter I know and celebrate…not any
pagan holiday…and I'm sure most Christians think this
way. God knows our hearts.






"No one lights a lamp and hides it in a jar or puts
it under a bed. Instead, he puts it on a stand,
so that those who come in can see the light.
For there is nothing hidden that will not be disclosed,
and nothing concealed that will not be known
or brought out into the open" (Luke 8:16-17).

The man without the Spirit does not accept
the things that come from the Spirit of God,
for they are foolishness to him, and he cannot
understand them, because they are spiritually
discerned (1 Corinthians 2:14)

May I never boast except in the cross of our
Lord Jesus Christ, through which the world has been
crucified to me, and I to the world (Galatians 6:14)

This is how we know what love is: Jesus Christ
laid down his life for us. And we ought to lay
down our lives for our brothers (1 John 3:16).





©2000 - 2017 ------- Individual Authors of the Poetry. All rights reserved by authors



Sign Guestbook

Read Guestbook

[ Control Panel ]
Last 100 Poems