Soap For The Soul


"Whispers Of Worship"



Are we full or part time Christians?
Do we ponder and study The Word?
Do we store it deep in our spirits?
Act upon all we are reading or heard?




Rulers merely measure twelve inches.
Yardsticks stop at thirty-six.
A full measure of faith fits the Bible.
There is nothing that it cannot fix.




It's soap for the soul when we're dirty...
Takes the stench of the world off us all.
We do need daily baths to be healthy.
We're covered with crud from The Fall.




It's a little like chips when we're hungry...
We can never just settle for one.
We can snack on the Psalms for fulfillment
Or feast on the Words of the Son!




Proved to bring peace when it's followed...
To emulate love when allowed.
It is loaded with God's special powers...
Can humble the haughty and proud.




It's the best of the vitamin treatments.
Just one chapter a day keeps us strong.
Tried and as true as God's Ten Commandments...
Each book teaches what's right or wrong.




I know we can't fool God Almighty
By pretending to be what we're not.
We may wear a mask and be counted,
But true Christians are a trustworthy lot.




Can't straddle the fence and be faithful.
It's got to be God or the other.
We have got to be grounded in Scripture,
And we simply must love one another.




To be sure of our walk with the Savior,
We must stay in The Word to be whole.
Scrub off the scent of the devil's deception
For the Bible is soap for the soul.

Lovingly Presented,
Doris Jacobs-Covington
February 1, 2010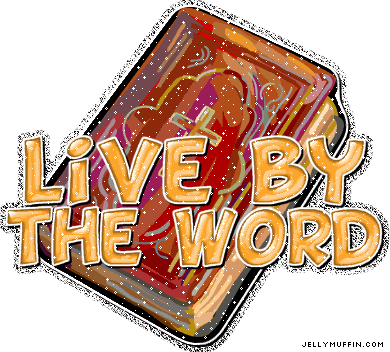 "Whatever happens conduct yourselves in
a manner worthy of the Gospel of Christ.
Then I will know that you stand firm in
one spirit, contending as one for the faith
of the gospel."
Philippines 1:27

"Let us make every effort to do what leads
to peace and to mutual edification."
Romans 14:19

"Get rid of all bitterness, rage and anger,
brawling and slander, along with every form
of malice. Be kind and compassionate to one
another, forgiving each other, just as in
Christ God forgave you."
Ephesians 4:31-32

"He who guards his lips guards his life."
Proverbs 13:3

"Your Word I have hidden in my heart that I
may not sin against you."
Psalm 119:11

"Your Word is a lamp to my feet and a light
to my path."
Psalm 119:105

"For the Word of God is living and powerful,
and sharper than any two-edged sword, piercing
even to the division of soul and spirit, and
of joints and marrow, and is a discerner of
the thoughts and intents of the heart."
Hebrews 4:12

"I know your works. that you are neither cold
nor hot. I could wish you were cold or hot,
So, then, because you are lukewarm. and neither
cold nor hot, I will vomit you out of My mouth."
Revelation 3:16

"....As Christ also loved the church and gave
Himself for her, that He might sanctify and
cleanse her with the washing of water by The
Word."
Ephesians 5:26