WHAT MY GOD MEANS TO ME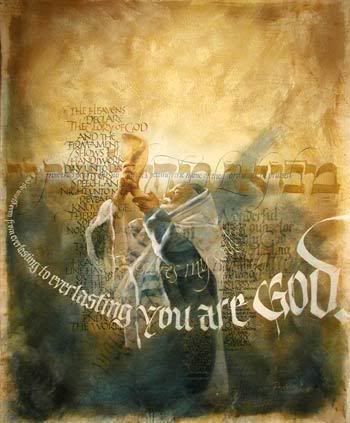 I found my God in a synagogue when I was a little girl and He never
left me. God was with me when each of my four sons was born, when
each of my nine grandchildren were born, and when each of my three great-
grandchildren were born.

God was with me when my beloved Daddy passed away. I was only nineteen
years old, married to Sol, and expecting Steven, my firstborn son. When
we gave Steven my Daddy's Hebrew name, God looked down at us and smiled.
I know this happened, because I felt His warmth in my heart.

Ronnie was born a few years later, and then came Bruce. My sons were
so beautiful! When Bruce was less than two years old, I lost a baby
during my sixth month of pregnancy. I was very sick and almost died,
but God watched over us. The day after this loss, I had a dream that
seemed so real; I dreamed that Daddy was carrying this little baby
in his arms and handing her to God. This dream helped me to bear the loss,
because God was with me, comforting me. One year later, my precious son
Alan was born -- and how I love this wondrous gift from God.

The years passed. Mamma died, and I cried, with God at my side. My sons
grew up and they all married Catholic girls. I wish everyone could
experience the love I receive from Maureen, Karen, Joanne and Marie; my
four amazing daughters-in-law! These gifts were granted to me by God.
My grandchildren were raised as Catholics, but we celebrated all
holidays, Jewish and Christian. God looked down at us and smiled.

The years passed. I returned to school, graduated from college,
and worked very hard as a newspaper and magazine reporter. Writing was
difficult but the thousands of stories I wrote were published, because
God helped me.

When Stevie died six years ago, I thought my broken heart would never
heal -- and it hasn't. I lost my son, and couldn't find him anywhere! But
Bruce's daughter, my darling grandaughter Emily, who was eight years old
at the time, put her arms around me and said, "He's alive Nana, he's alive
in your heart." My beautiful Emily was right, because Stevie lives in my
heart; God put him there. Stevie didn't leave this earth without granting
me three gifts; his wife Maureen and sons Matthew and Evan.

A few years ago, Alan's son Jake decided he wanted to be Jewish, and our
family celebrated his Bar Mitzvah on the beach in Malibu, California where
they lived. My story about this Bar Mitzvah was published in a Jewish
newspaper and is posted on this website. Now Jake's eleven-year-old sister
Margot attends Hebrew school. God again looks down at us and smiles.

I share this with you because I truly believe that the manner in which we
worship God is immaterial. What is important is that we always believe in
HIS LOVE for us and share this love with ALL human beings. Please read
the poetry written by my grandson Jason Wexler (poetrypoem.com/Jaywex).
Jason writes about his love for Jesus. May God bless my amazing grandson
Jason and may God bless you.







Free Morning Has Broken MP3 | Free music ringtones at EZ-Tracks.com



©2000 - 2021, Individual Authors of the Poetry. All rights reserved by authors.
Visit My Home Page | Start Your Own Poetry Site | PoetryPoem
[ Control Panel ] [ Today's Poetry - ALL Poets ] [ Search ]