Poetic-Verses
244,371 poems read
TREASURE CHEST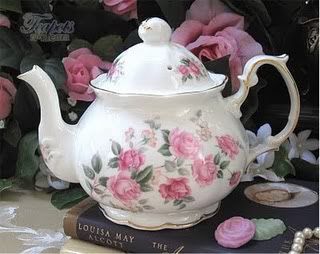 I HAVE A LITTLE TEA-POT
PRETTY AS IT CAN BE.
MY GREAT AUNT GAVE IT TO MY MOM,
AND NOW IT'S HERE WITH ME.
IT'S MADE OF PORCELAIN CHINA
SHE BOUGHT ON HER HONEYMOON
I KNOW IT'S OLDER THAN A HUNDRED AND TEN,
I KEEP IT IN A CABINET, IN MY LIVING ROOM.
I HAVE SEVERAL TREASURES THERE
A GLASS DISH WITH CATS ETCHED ON IT
A PAIR OF LITTLE SHOES ,MY AUNT MAY
WORE , SHE DIED AT FOUR
ANOTHER TEAPOT, MY FATHERS MOTHER HAD
A LOT OF OTHER THINGS , I'VE KEPT
THEIR MEMORIES MAKE ME GLAD
MY MOM AND BOTH MY GRANDMAS QUILTED
I HAVE OIL-PAINTINGS MY FATHER LOVED TO DO ,
BECAUSE OF HIM, I ALSO BECAME A PAINTER .
I'LL ALWAYS TREASURE THEM, IT'S TRUE.
WHEN I AM GONE, I HOPE MY KIDS WILL TREASURE THEM TOO.
Copyright © Shirley Sasek
2009