THE HIGHEST OF HIGH CALLINGS


While it's true we base our doctrines
On the New Testament today...
That The Law's been superseded
And Grace is the Christian way.




Yet there are certain principles
We still need to recognize.
Some of the Old Scriptures
Haven't changed in our God's eyes.




Remember, He's the Author
Of both the Old and New.
Old Testament Illustrations
Should still speak to me and you.




The Priesthood has been changed
And we're not under The Law.
Surely not led by the Letter...
There is no hook in our jaw.




Those old rules and regulations
Were abolished at The Cross.
When Jesus shed His Precious Blood
The Letter's hold on us was lost.




But, while The Letter's not enforced,
Each moral principle still stands.
Not under legalism's thumb,
But because righteousness demands.




We've not been issued licenses
To live just as we please.
If this were true, we'd never find
A Christian on their knees.




Yes, we've been justified by faith.
We've experienced salvation.
But God sets us apart for what
He calls sanctification.




We are to consecrate our lives...
To fully forsake sin.
To set our minds on sainthood
And seek holiness within.




A born again experience
Is really the beginning
To prepare us all for Heaven.
It's a race so worth the winning!




So lets turn our eyes on Jesus...
Let us all go for the goal!
It's the highest of high callings!
It's a sanction for the soul.





Lovingly Presented,
Doris Jacobs-Covington
April 14, 2010

"For sin shall not have dominion
over you, for ye are not under
the law, but under grace."
Romans 6:14

"What then? Shall we sin because
we are not under law but under
grace? GOD FORBID!"
Romans 6:15

"Being then made free from sin,
ye became the children of
RIGHTEOUSNESS"
Romans 6:18

"But now being made free from
sin, and become servants to God,
ye have your fruit unto HOLINESS,
and the end EVERLASTING LIFE.
For the wages of sin is death
(this death means separation from
God) but the GIFT of God is eternal
life THROUGH Jesus Christ our Lord."
Romans 6:22-23



"There is neither Jew nor Greek,
there is neither bond nor free,
(speaking of slavery) there is
neither male nor female; for ye
are ALL ONE in Christ Jesus."
Galatians 3:28



"For ALL THE LAW (meaning the
principles of the law...the Ten
Commandments) is fulfilled in ONE
WORD, even in this; Thou shalt
LOVE thy neighbor as thy self."
Galatians 5:14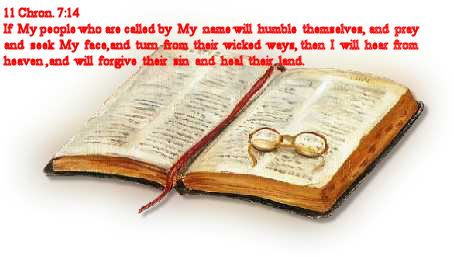 ©2000 - 2022, Individual Authors of the Poetry. All rights reserved by authors.
Visit My Home Page | Start Your Own Poetry Site | PoetryPoem
[ Control Panel ]
[ Today's Poetry - ALL Poets ]
[ Search ]