Poetic-Verses
244,447 poems read
FANTASY LAND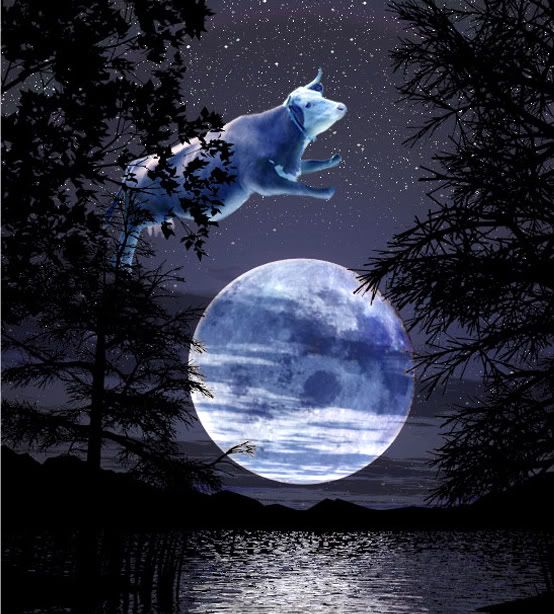 ONE NIGHT THE MOON ROSE EARLY
AND HAVING NOTHING BETTER TO DO
SAID TO THE STARS "LET'S HAVE SOME FUN"
HE ASKED THE NORTHERN LIGHTS TOO
SO OFF THEY WENT TO SEE WHO COULD COME
OF COURSE THEY ALL DID
THEY WERE TIRED OF ALWAYS BEING SO PROPER
THEY WANTED TO ACT LIKE A KID
THE MOON ROSE HIGH IN THE NIGHT SKY
TO GIVE THEM LOTS OF LIGHT
SO- TWINKLE, TWINKLE LITTLE STAR
SHOWED HER DIAMONDS SO BRIGHT
OF COURSE THE COW WOULDN'T BE OUT DONE
SO SHE JUMPED OVER THE MOON
WHICH BY THEN WAS OVER MIAMI
AND THE COW LANDED IN A LAGOON.
THE STARS SHONE SO BRIGHT,
IN THE STILL OF THE NIGHT
THAT THE COMET DECIDED TO ZOOM.
AND ITS TAIL LEFT A FIREY TRAIL TIL IT WAS OUT OF SIGHT
THE NORTHERN LIGHTS DID THEIR DANCE,'ROUND THE MOON
TIL THE FIRST RAYS OF DAWN BROKE THE MOOD
THEY ALL WENT BACK TO THEIR USUAL PLACE
THEY ALL FELT THE WHOLE NIGHT WAS GOOD.
Copyright © Shirley Sasek
2010
Comment On This Poem ---
FANTASY LAND