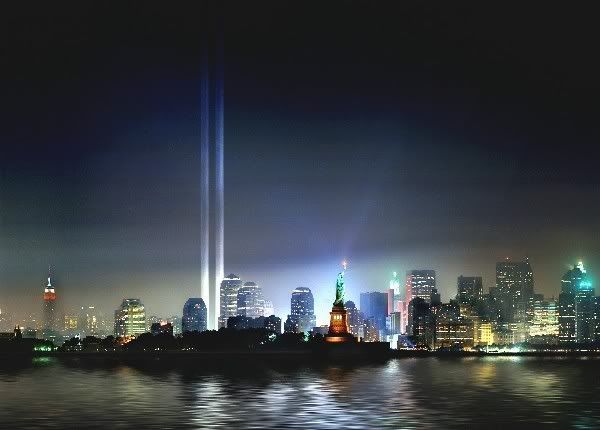 It's been nine years now that Sept.11th marked a tragedy
An anniversary that will impact America down through history
Changing lives of all Americans good and bad since then
As turmoil of multiple magnitudes have only just begun

Just when perhaps some healing may have started
Then by the same religion turned radical that caused it
Wants to mark the spot where many loved ones departed
With another trophy as to announce victory they plotted

For the very meaning of cordoba initiative is revenge
Then a Pastor of our christian faith felt he should avenge
The God we serve is love and commands us to do the same
Do unto others as you would have them do unto you remains

Our God is the author of the Holy Bible written
As christians we are to follow His word given
The Koran is sacred to the Islamic religion
I wouldn't burn theirs for as mine it's sacred to them

Our God gives all mankind free will to choose
To force our religion on others His will we'd abuse
We are told in His word if any other doctrine is presented
We are not to be partakers of it or even wish them God speed

It also says a house or city divided will not stand
That's why there were borders by God at the tower of Babylon
America was established on biblical principals by christians
Using the Holy Bible our nation's documents were written

As a christian we are to be the hands and feet of Jesus
Sharing the gospel of salvation and how it has freed us
Over the years many have come to know the truth
This race we are running won't be easy for me or you

But run it we must and pray continually fervently
For One Nation Under God to return to sovereignty
Many on that tragic day returned to God above
Knowing it would only be through him they'd overcome

On this day that marks the anniversary let us all pray
For strength of our nation and His bible truth proclaim
For salvation only comes through Jesus and His name
If you reject Him ,Father God will deny you the same

So many will believe in other teachings and religions
But if we have the heart of God we pray and inform them
For Jehovah God does not wish for any to perish
His love for all mankind was shown on Calvary to cherish

We are the voice that is to line up with God's word
Never to compromise the truth we have heard
Yet all we do in word or deed is to be unto the Lord
Walking in the spirit of love never hate and to exhort

God bless America and all them that fights for her freedom
Yet I must remind true freedom only comes through knowing Him
What does it benefit a man to gain the world and lose his soul in doing
The Lord and Savior of the world wants our trust to be in Him hidden

A scripture of Psalms 91 is to dwell in the secret place
Those that believe in Christ are given abounding grace
Grace is God's favor through all trials and tribulation
Strengthening His children with a promise to never forsake them

God bless America and all that gave their life that day
Although it was a cowardly act Our God will judge and repay
In the mean time don't lose hope for all you see in the natural
For it is only temporal but in Christ there's life everlasting

Lovingly In Christ ; Pastor Linda Begley
9-11-2010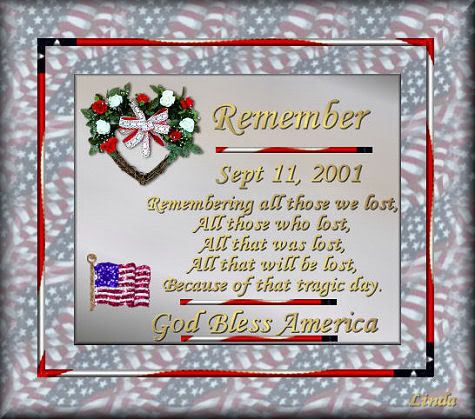 2 John 1
1 The elder unto the elect lady and her children,
whom I love in the truth; and not I only,
but also all they that have known the truth;
2 For the truth's sake, which dwelleth in us,
and shall be with us for ever.
3 Grace be with you, mercy, and peace,
from God the Father, and from the Lord Jesus Christ,
the Son of the Father, in truth and love.
4 I rejoiced greatly that I found of thy children
walking in truth, as we have received a commandment
from the Father.
5 And now I beseech thee, lady, not as though I wrote
a new commandment unto thee, but that which we had
from the beginning, that we love one another.
6 And this is love, that we walk after his commandments.
This is the commandment, That, as ye have heard from
the beginning, ye should walk in it.
7 For many deceivers are entered into the world,
who confess not that Jesus Christ is come in the flesh.
This is a deceiver and an antichrist.
8 Look to yourselves, that we lose not those things
which we have wrought, but that we receive a full reward.
9 Whosoever transgresseth, and abideth not in the
doctrine of Christ, hath not God. He that abideth
in the doctrine of Christ, he hath both the Father and the Son.
10 If there come any unto you, and bring not this doctrine,
receive him not into your house, neither bid him God speed:
11 For he that biddeth him God speed is partaker of his evil deeds.

Eph.4:4-7,17-27
4 There is one body, and one Spirit,
even as ye are called in one hope of your calling;
5 One Lord, one faith, one baptism,
6 One God and Father of all, who is above all,
and through all, and in you all.
7 But unto every one of us is given grace
according to the measure of the gift of Christ.
17This I say therefore, and testify in the Lord,
that ye henceforth walk not as other Gentiles walk,
in the vanity of their mind,
18 Having the understanding darkened,
being alienated from the life of God through the
ignorance that is in them, because of the blindness
of their heart:
19 Who being past feeling have given themselves over unto
lasciviousness, to work all uncleanness with greediness.
20 But ye have not so learned Christ;
21 If so be that ye have heard him, and have been taught by him,
as the truth is in Jesus:
22 That ye put off concerning the former conversation
the old man, which is corrupt according to the deceitful lusts;
23 And be renewed in the spirit of your mind;
24 And that ye put on the new man, which after God is created in
righteousness and true holiness.
25 Wherefore putting away lying, speak every man truth with his neighbour:
for we are members one of another.
26 Be ye angry, and sin not: let not the sun go down upon your wrath:
27 Neither give place to the devil.
29 Let no corrupt communication proceed out of your mouth,
but that which is good to the use of edifying,
that it may minister grace unto the hearers.
30 And grieve not the holy Spirit of God,
whereby ye are sealed unto the day of redemption.
31 Let all bitterness, and wrath, and anger, and clamour,
and evil speaking, be put away from you, with all malice:
32 And be ye kind one to another, tenderhearted,
forgiving one another, even as God for Christ's sake hath forgiven you.