MI NOTA DE AMOR PARA TI
Love deserves to be read en Español and in English...and so...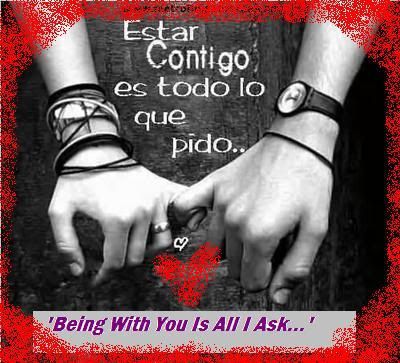 El amor de mi vida,
El hombre de mis sueños
y mi corazon…
¿De dónde vino tu?

¡Yo no le esperaba
pero, aquí es
adorarme más que
yo jamás soñé que
cualquiera jamás hace!

Ningunas palabras
jamás podrían hacer la justicia
a la alegría tu has traídos en mi vida
y sólo cielo encima de sabe
los sentimientos que llevo
dentro de mi corazón…

…o la gratitud

¡Haber encontrado el uno al otro sea
el regalo más grande que nosotros jamás
pudiéramos haber sido dados!

Tu amor me has dados alas a volar,
los armamentos para abrazar,
y la felicidad para saber…

…y te este ahora, mañana, y para siempre.




AND IN ENGLISH...

Love of my life,
man of my dreams
and my heart…

…where did you come from?

I wasn't expecting you
but here you are,
loving me more than I
ever thought anyone would!

No words could ever
do justice to the joy you have
brought into my life and only
heaven knows the feelings
I carry within my heart…

…or the gratitude.

To have found one another
is the greatest gift we could ever
have been given!

Your love has given me wings to fly,
arms to embrace, and happiness to know…

…and I want this now, tomorrow, and for always.



K.Tate Jacoby
copyright October 2, 2010






©2000 - 2022, Individual Authors of the Poetry. All rights reserved by authors.
Visit My Home Page | Start Your Own Poetry Site | PoetryPoem
[ Control Panel ] [ Today's Poetry - ALL Poets ] [ Search ]