8 MM MEMORIES

Mid-day,
the sun shimmers
on the quaking leaves,
burnished with the
colors of a season
fully arrived.

Strands of hair,
free-floating around my head
in a halo of gold feathers,
seem to celebrate
with the breeze
stirring past.

Someone has built a fire –
the first one of autumn
I've detected with my
crazy-sensitive nose,
the woodsmoke
lighting the
synapses

and
my brain
begins running
through memories;
and
that feeling
of watching an 8mm
movie, snippets of
my life,
jolts me…

Piles of leaves
filled with the dry,
musty scent of fall,
of October
every year,
were always
there…
Ohio

Pungent, sweet smell
of burning leaves,
hardwood fires,
candles warming
jack-o-lantern
smiles...

Then November would come
with birthday grins,
chocolate cake aromas
wafting, soon followed
by roasting
the turkey,
giving
thanks…

With a start
my minds reels
back to the present,
the still warm sun,
Virginia in
autumn
and I
smile,

put the car in drive,
rewind the movie
and head
for
home.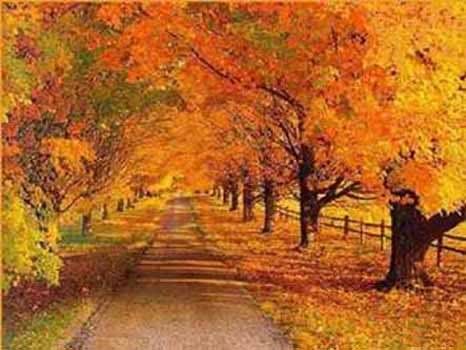 K.Tate Jacoby
copyright November 9, 2010
















©2000 - 2019 - Individual Authors of the Poetry. All rights reserved by authors.
Visit My Home Page | Start Your Own Poetry Site | PoetryPoem
[ Control Panel ] [ Today's Poetry - ALL Poets ] [ Search ]