Alwaysawarrior
1,309,678 poems read
BINH -THUY AIR BASE




Binh Thuy Air Base
January 10, 1969
0200 hours:
Received 62 Rounds
USAF KIA 1, WIA 4


Binh Thuy Air Base
January 10, 1969
2259 hours:
Received 56 Rounds
USAF KIA 2, WIA 5


Soon it will be the start of a new year, but with each new January
returns the nightmares and terror that I survived from January 10,
1969 while in Vietnam. It is a bitter cold day up here in Michigan
right now, but very soon it'll be another anniversary date for those
of us who were serving at Binh-Thuy Vietnamese Air Force base in S.
Vietnam on January 10, 1969 when in those early morning hours and
again later on that same night again we were attacked by the Viet
Cong and our base was heavily shelled by the attacking troops and
between both of these attacks we had received over 118 rounds of
mortar and artillery fire. This was just one day of those I served
down at Binh-Thuy Air Base and it has never left me in the 51 years
that have passed by since I had survived my tour of duty there as
a 20 year old kid. We'd lost three of our own killed in action and
we also had nine other airman wounded between both of the attacks
on our air base. Some had been close friends and some of them we
just saw around the base but we really didn't get to know them as
well as others there who were among those who had been killed or
wounded in both of these attacks that morning and again later on
that same night during that second attack on us. To all my brother
airmen who had been there with us as we had faced these terrifying
and deadly attacks, I am sure that you will always remember this
date as well as our brother airmen and security police brothers
who served with us at Binh Thuy then. To my own relatives and to
my close personal childhood friends who I had grown up with back
home in East Detroit, Michigan I know that to this day you still
can't really grasp just what it was that I had gone through after
I had gone to South Vietnam to serve in that war or haven't quite
understood why I had changed so much after coming back home to see
my family to spend Christmas & New Years with them and all of my
friends before I reported to my next duty assignment down at Scott
Air Force Base in Illinois after New Years. You see some of those
events and attacks that we faced over there had greatly impacted
our lives and as we tried to make some sense out of all of those
bad experiences we'd been through during our year long tour there.
We were very grateful that we had been so blessed to have survived
those times and those incidents we had faced in the war over there,
but then too we also saw the looks directed at us from those who'd
been safe and sound here at home and seemed to be oblivious to what
we had faced over there and they just went on each day in their own
daily routines back here as if nothing were happening to any of us
over there in Vietnam. I guess because they had not been directly
affected by it all like we were each day and night, I know it's a
fact that some can and have put those times deeply away at the back
of their minds and have moved on as it should be, but then too some
of us who can't and never will let go of the things that we had all
faced over there and what we had seen at such a young age. As for
me there were things that happened to me in Vietnam that I've tried
to put behind me too as I have become an old man, but I still can't
but each year the nightmares from that one date in my own war start
returning about a week before the anniversary date and at times they
will hang around for a week or two after this date. I have not slept
on this date of January 10th since 1969 and I'm sure that I will not
again until the end of my life. To have been there and to have gone
through both the attacks was bad enough for anyone, but then to find
out later that one of your fellow airman had been killed during that
first attack early that morning of January 10, 1969 by the very first
mortar round that had come through the roof of his hooch and it had
exploded above his upper bunk as he slept and that he had never had a
chance to run out to the bunker that was located between our hooch's
to get to the safety of the bunker, well that fact will never leave
my mind for as long as I live. I've had people tell me that I should
just let it go that it doesn't matter anymore it's just old history
now, but I think for those of us who were there and went through the
two attacks on that date we will never forgot what had happened. So
to my brother warriors who were there with us on January 10, 1969,
we were extremely lucky to have survived the two attacks and for all
of those who were our security police brothers at the other air bases
over there during the Vietnam War, I am certain that you all have an
anniversary date or two that you still live with as well and we will
never forget those of our brothers that we had lost over in Vietnam.
And as for my own family and my old friends who've never been able to
quite understand the reasons why I'd changed so much after that long
year that we had spent in the hell of South Vietnam and upon coming
back home from there on my leave before reporting to my new air base
assignment at Scott AFB in Illinois, it was a shock that our fellow
Americans had treated us so badly as we had emerged out of the front
gate at Travis AFB out in California with such contempt or the names
that they called us like murders, rapists and worst of all they said
we were baby killers. You now know at least some of the reasons I'd
changed so much after I had returned home from South Vietnam and it
had forever changed my views on life, people and especially all the
politicians here in America. But then too you must remember that we
were over there for one whole year in addition to that one date in
January 1969 and there were many other things we had seen and gone
through there as well. So I guess it isn't always true when people
say that Time heals all wounds, well maybe it does with some wounds
but not all wounds. I've never really been able to sleep very well
since that terrifying date of January 10, 1969, nor have I slept on
all those anniversary dates of January 10 that have passed by since
that night. I really won't get anything more than a cat nap or two
on the 10th, nor will I ever again on that date. It's just the way
it was, is and always will be for many of us who had been there on
that date in 1969. It is also extremely hard to ever forget that we
also loss so many of our brothers in arms regardless which branch
of the service that they had served there during the Vietnam War.
May they all rest forever in the honor and eternal peace as they
so richly deserve and have earned that right defending freedom.



© Terry Sasek - Alwaysawarrior - all rights reserved.
(Revised 12/31/2016)


Written on January 10, 2011 on the 42nd anniversary of one of
the worst attacks we faced on our remote South Vietnamese air
base called Binh-Thuy which was very near the Cambodian border
deep down in the Mekong Delta Region of South Vietnam. It was
an extremely sudden and a deadly attack as we were hit early
in the morning and again later on that same night. It's one of
the worst memories that has haunted me ever since returning to
my home after serving in that war and the nightmares return to
haunt me each and every year on this anniversary date from the
past when I was just 20 yrs. old and had faced this first major
attack on our base since deploying there in November of 1968.
I start having these yearly nightmares a few weeks before this
anniversary date and they often will haunt me for about a week
or two after this date on which we went through hell during the
two attacks back on January 10, 1969 which was the longest day
and night that I have ever had in my own personal life.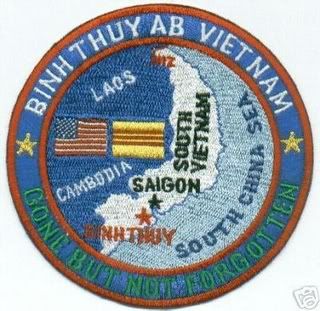 This is a tribute patch to remember our fellow warriors
that we had lost while serving at Binh-Thuy Air Base.





This is the our group's unit patch for the
632d Combat Support Group in South Vietnam.



KIA - (KILLED IN ACTION)
WIA - (WOUNDED IN ACTION)