'STARS & STRIPES SALUTES `US ARMED FORCES DAY` 21/MAY/11``Taps Video Added`
© 21/MAY/2011
StarsAndStripes
"IN GOD WE TRUST"
*********************!

`Today, Stars&Stripes` Salutes All US FORCES Who At One Time Have Given Dedicated Service To Our Country',
In All Medical Fields and Armed Branches Of US Armed Forces.

'*`ARMED FORCES DAY IN THE UNITED STATES`*'

Quick Facts
Armed Forces Day is a national observance in the United States on the third Saturday of May each year.

Armed Forces Day 2011
Saturday, May 21, 2011

Many Americans celebrate Armed Forces Day annually on the third Saturday of May. It is a day to pay tribute to men and women who serve the United States' armed forces. Armed Forces Day is also part of Armed Forces Week, which begins on the second Saturday of May.

Americans in the Armed Forces are honored and remembered on Armed Forces Day.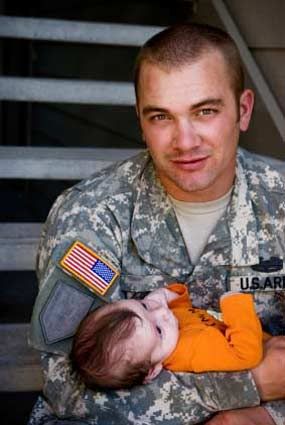 ©iStockphoto.com/Shelly Perry

What do people do?

Many events across the United States take place on Armed Forces Day to honor Americans in uniform who served their country in times of war and peace. Those who are honored on this day include people who serve the Army, Navy, Marines, Air Force and Coast Guard. National Guard and Reserve units may celebrate Armed Forces Day/Week over any period in May because of their unique training schedules. Events and activities may include:
•Multi-service military displays in areas open for the public.
•Various educational activities that teach children about the armed forces.
•"Support the Troops" themed motorcycle rides.
•Large parades and other local celebrations.

Certain types of music are also played at Armed Forces Day events, including at memorials and at cemeteries, as a way to respect those in the armed forces who died for their country. For example, buglers have played a bugle call, known simply as Taps, on Armed Forces Day in recent years. Taps is usually sounded by the United States military at events such as flag ceremonies, memorial services and funerals.

Public life

Traffic and parking may be affected in areas where large-scale events are held for Armed Forces Day.

Background

On August 31, 1949, Louis Johnson, who was the United States' Secretary of Defense, announced the creation of an Armed Forces Day to replace separate Army, Navy and Air Force Days. The event stemmed from the armed forces' unification under one department – the Department of Defense. The Army, Navy and Air Force leagues adopted the newly formed day. The Marine Corps League declined to drop support for Marine Corps Day but supports Armed Forces Day too.

The first Armed Forces Day was celebrated on Saturday, May 20, 1950. The theme for that day was "Teamed for Defense", which expressed the unification of all military forces under one government department. According to the U.S. Department of Defense, the day was designed to expand public understanding of what type of job was performed and the role of the military in civilian life.

Armed Forces Day was a day for the military to show "state-of-the-art" equipment to Americans. It was also a day to honor and acknowledge Americans in the armed forces. Parades, open houses, receptions and air shows were held at the inaugural Armed Forces Day. Armed Forces Day is still celebrated nationwide today and is part of Armed Forces Week.

Symbols

Posters and other material used to promote Armed Forces Day often show images of Americans in the armed services dressed in their uniforms. Some posters show a collage of images, including images of those in the armed forces with their families or friends, as well as the United States Flag.

Themes

Some themes that were used for Armed Forces Day in the past included:
•Appreciation of a Nation
•Dedication and Devotion
•Freedom Through Unity
•Liberty
•Patriotism
•Power for Peace
•Prepared to Meet the Challenge
•Security
•Special Opportunity for Thanks
•Teamed for Defense

These are only a few examples, and not a full list, of the Armed Forces Day themes in previous years

'ABOVE ARTICLE AS REPORTED IN:`Time & Date`
Copyright © Time and Date 1995–2011. All rights reserved.

*************************


"Dedicated by author of Stars&Stripes
To All Families Of Fallen Heroes Throughout History!"
"God Bless Us One and All!


'Click here to view>`RED SKELETON'S`~`PLEDGE OF ALLEGIANCE`

"SPECIAL SALUTE IN HONOR OF `US ARMED FORCES DAY`" ~*21/MAY/2011*~
Click here to view>`SPECIAL EDITION ARMED FORCES DAY`

`Special Salute`to ALL TROOPS, FRIENDS,

and anyone that appreciates PEACE AND FREEDOM

FROM WARS OF LIFE ON THIS EARTH!.

`IN GOD WE MUST TRUST`!
***********************
`Please check Home Page for Reinstated Sites and New Salutes!
If your Original Site had been moved and has not been re entered, please advise!

Repost of poem: 'ON YOUR SHORE' In Dedication To All Veterans!




`ON YOUR SHORE`
~+~
I laid down my life on shore
Why couldn't I have done more
My sacrifice has not changed a thing
As my brothers still do hear
bullets ring
~+~
I say lay down your arms today
Get down on your knees and pray
Freedom's here in God's heaven above
When you send the world all of
His Love
~+~
`author unknown`

"Dedicated by author of Stars&Stripes
To All Families Of Fallen Heroes Throughout History!"
"God Bless Us One and All!


© 2010
StarsAndStripes
"IN GOD WE TRUST"

Reposted:© 2011
^^^^^^^^^^^^^^^^^^^^^^^^^^^^^^^^^^^








'STARS & STRIPES SALUTES `US ARMED FORCES DAY` 21/MAY/11``Taps Video Added`