Happy Anniversary To My Sweetheart



Darling, my mind slips back
To some thirteen years ago...
To a wedding ceremony
In a chapel all a-glow.




Angels in attendance?
I wouldn't be a bit surprised!
For I caught a glimpse of Heaven
In the clear blue of your eyes.




The presence of the Lord
Seemed to fill all altar space.
In the flicker of the candles...
In the warm love on your face.




What a blessing to find love
In the winter of our years.
Just the sound of your sweet voice
Was like music to my ears.




There were so many reasons
Why I felt so drawn to you.
Your commitment to the Lord
Was the first I floated to.




Your gentle way with children
Always seemed to melt my heart.
You were the bestest kind of friend
And the real good neighbor sort.




Patriotic, filled with pride
For the ole red, white, and blue.
Men didn't come much better
Or braver, my love, than you.




Before God and every witness
In the same poetic way
I say Happy Anniversary
I love you more and more each day.

Lovingly Presented
For July 18, 2011
Doris Jacobs-Covington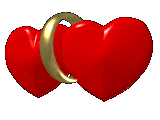 "I am my beloved's and my beloved
is mine."
Song of Solomon 6:3