The Future Faith Cathedral



Six days of glory did define
Twenty five years of growth.
Yet the picture's now expanding
And the vision's going forth!





A good church aimed for greatness!
God's hallelujah team!
An enlarged territory
Tops our faith in focus dream!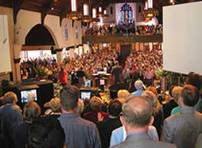 A congregation cultured
In miracles can dare
To achieve what seems impossible
If we decree and we declare!





So, if faith is a substance
As the Word of God does state...
We can believe for bigger things...
Such as a Dome to congregate!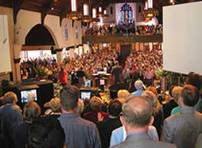 A Dome in such a little town?
I'm sure someone will ask!
Do you doubt God could fill it
If we put Him to the task?





Of course, we are His arms and legs!
We are His mouth and voice!
We are to issue invitations
If greater growth becomes our choice.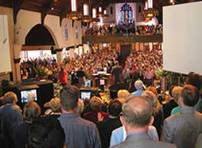 We know that Faith Cathedral
Is Bible based and altar strong.
And we know the Holy Spirit
Still places souls where they belong.





So, look around your neighborhood...
At your friends and family.
You know down deep within your heart
Church is where they ought to be.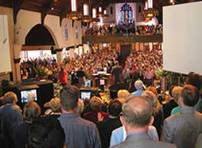 And what better church I'm prone to plead
Where The Word is soundly preached?
Good teaching is essential
If those lost souls must be reached.





So, let's pursue the pastor's passion...
Let's follow the bishop's lead...
And the future Faith Cathedral
Just might be that Dome indeed!!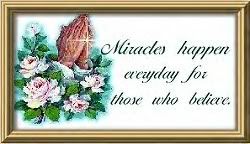 Lovingly Presented,
Doris Jacobs-Covington
November 10, 2011

Bishop Drew and Senior Pastor Wanda Rousse


~~~AUTHOR'S NOTE~~~
This poem is dedicated to the leaders
and congregation of Faith Cathedral (my
home church) in New Iberia, La. We have
outgrown two buildings already...this
tells me that we're doing something right
and God is pleased with us. The bigger
the building the more people they hold...
the more people, the more who hear the
Gospel preached...and this is what church
is all about...to teach and prepare souls
for Heaven and for service to Jesus Christ.
People need a vision...this poem is to
encourage that vision.

Note below from page designer;Pastor Linda Begley:
(This dome was used for the sake of a picture of a dome
not in reference to any other religion but that of Jesus Christ
alone,which is the ONLY way to the Father that you may be saved)

(KJV)
John 14:6
Jesus saith unto him, I am the way, the truth, and the life:
no man cometh unto the Father, but by me.

Romans 10:17
So then faith cometh by hearing,
and hearing by the word of God.

Heb.11:1,6-7
1.Now faith is the substance of things hoped for,
the evidence of things not seen.
6.But without faith it is impossible to please him:
for he that cometh to God must believe that he is,
and that he is a rewarder of them that diligently seek him.
7 By faith Noah, being warned of God of things not seen as yet,
moved with fear, prepared an ark to the saving of his house;
by the which he condemned the world,
and became heir of the righteousness which is by faith.














TRIPLES with EMMA