The Broken Ballerina (wings2fly2heaven)
Here's a writing experiment by looking at an image. It touches on dissonance poetry which is not easy to apply. Dissonance is based on the 'sound' of words, and the challenge is to utilize that sound to convey meaning in the entire piece. To pull it off successfully is no easy task, so this is an 'experimental prose'.



THE BROKEN BALLERINA

Written Dec. 15th - 17th 2011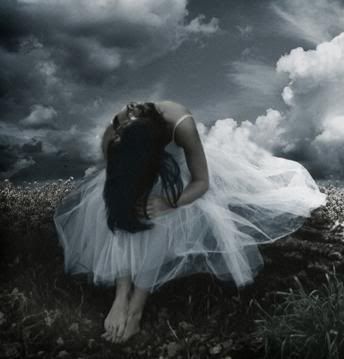 I grant thee a generous audience, herein containing thy meager dreams delicately gathered during restless slumber.

Declination shall be awarded for a lethal error spilt crimson across pages, etching eternal lines across seasons of fancy.

Under cataclysmic skies, far away she did spin…
With acquired skill and execution from her mirrored image of reason and rhyme.

And so…

The reveles at the barre on painful pointe did create time's marker.

Explosive and unexplosive voices accompanied the soft footsteps perusing behind ruffled curtains of hardwood stages.

A cerebral revelation declared: "there's nowhere to hide from the storm".

So she resigned, then collapsed with exhaustion.






Vote for this poem
| | |
| --- | --- |
| Please Comment On This Poem | |
wings2fly2heaven