Bridges In The Mind (Prompt#2) A,C,B
QUOTE: "Let every man praise the bridge he goes over"- English Proverb


Throughout our lifetime we will cross many bridges.
Some bridges will make us happy while others will make us sad.
From birth to death bridges will be there.
That beautiful baby boy born today will have his bridges to cross.
Maggie, the old lady who died last week has crossed her bridges here on earth.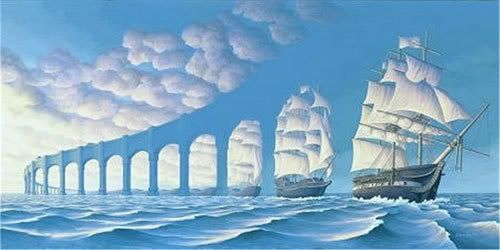 At times the waters beneath the bridge
Become rough and rage
The waters toss and turn us
Waters splash furiously
We go through turbulent storms
The waves make us feel uncertain
They seem to be angry
We hold on steady as we safely
Cross the bridge
Wondering how we made it





Then there are scary bridges
These bridges creep up on us
In the deep dark of night
We become fearful
We hear weird sounds
Sounds that may not be there
They rob us of our sleep
We lie awake worrying about the future
These bridges make us anxious as we look forward
To morning light






Last but not least
We come to the bridge
That fill our heart with songs
We are filled with hope and peace
All is well with the world
We can walk smoothly across this bridge
We can see beauty all around
We see light at the end of the this bridge
This is the bridge that some come
At the end of their journey
This is what we call the golden bridge


ŠJanuary 31, 2012 Janet Irene Griffin

QUOTE: "Life is a bridge. Cross over it, but don't build no house on it"- Indian Proverb
To me bridges are a metaphor of life.


<







©2000 - 2021, Individual Authors of the Poetry. All rights reserved by authors.
Visit My Home Page | Start Your Own Poetry Site | PoetryPoem
[ Control Panel ] [ Today's Poetry - ALL Poets ] [ Search ]