His Angel (wings2fly2heaven)
2~23~2012

His Angel of all Angels

Dreams within a grasp
Why must they struggle through storms?
Strengthen resolve and commitment
Emotional and physical pain engulfs.
They beg to ask, "have we done this before the dawn of time"?
He once walked alone the cobblestone
Peering through foggy windows of the past,
Opening windows of the present,
And stumbling upon his future...their future.
Vision tunneling... both gaze upon the same light.
The glow illuminates and creates an allure
Fingertips touch as hearts melt into one.
Though words fall short of all they've come to know.
They stand strong.
Knowledge has found its refuge surrounded by the comfort of love.
His angel of all angels hovers... stands guard... protects...
A guiding force
A home inside a heart dwells
Tis I…… his angel in love and life, let us fly away.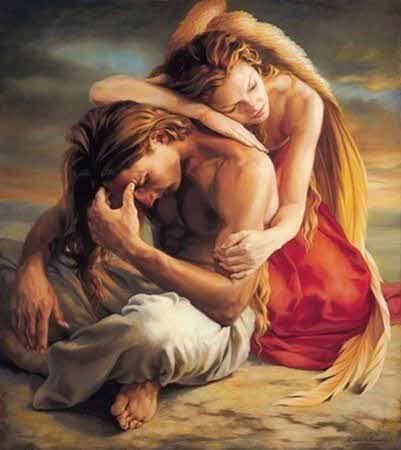 Vote for this poem
| | |
| --- | --- |
| Please Comment On This Poem | |
wings2fly2heaven