AWAKENING
It's always fun to co-write with another person…
the outcome can be surprising, weird, fun, or very serious.
The piece below was co-written with a new friend of mine who has a similar style to mine…
I liked the result and thought I would share and encourage others to try this kind of creative exercise!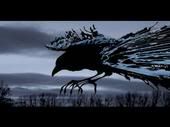 (Kelly:)
A crow looks sinister
Sculling across leaden skies
But the hidden song of a lark
Becomes a pleasant surprise.




(Kathryn:)
Late winter fields lay barren
No hint of life discerned
Buried beneath the frozen soil
Awaiting the sun's return




(Kelly:)
The hurts long remembered
That consumed me oh, so much
Dissolve away in a moment
From just my lover's touch




(Kathryn:)
Just like the leaves in springtime
Awakened and newfound
Two souls begin their life again
Love sprouts from fallow ground




Co-written by K. Tate Jacoby and K. VanArsdel
copyright March 1, 2012








©2000 - 2022, Individual Authors of the Poetry. All rights reserved by authors.
Visit My Home Page | Start Your Own Poetry Site | PoetryPoem
[ Control Panel ] [ Today's Poetry - ALL Poets ] [ Search ]