~`+`~HOLY THURSDAY` ~ `THE LAST SUPPER~`+`~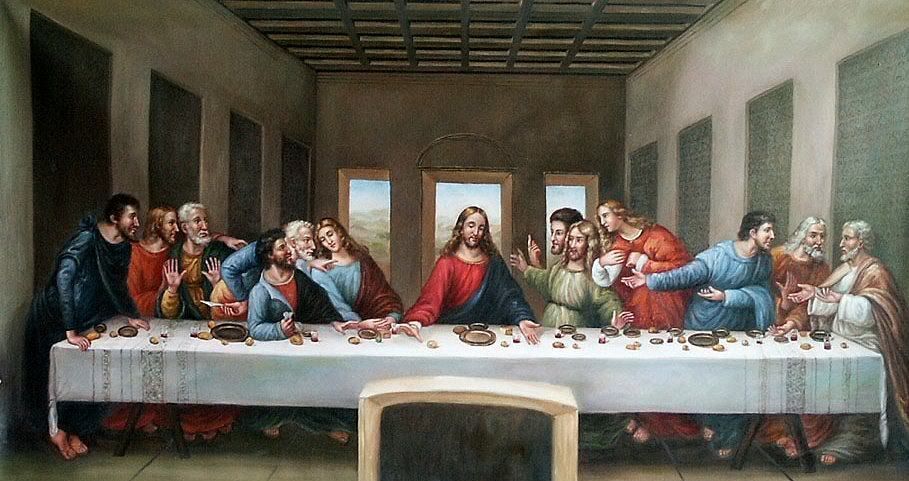 ~*`The Last Supper~*~
` (1594) by Tintoretto.`

In the course of the Last Supper,
according to Paul and the Synoptic Gospels
(but not the Gospel of John),
Jesus divides up some bread,
says a prayer (see also grace),
and hands the pieces to his disciples,
saying, "This Is My Body."

He then takes a cup of wine,
(known as the Holy Grail),
offers another prayer, and hands it around,
saying, " This Is My Blood Of The Everlasting 'Covenant',
which is poured for many"
.
Finally, according to Paul and Luke,
he tells the disciples, " Do This In Memory Of Me."

These words signify the whole point
in the final meal. Jesus wants the disciples to remember him,
and his ways even in death,
because he knows that they will again
be reunited in the kingdom of God.

Depiction of Last Supper in the Cathedral of Freiburg.According to the Canonical Gospels,
during the meal, Jesus revealed that one of his Apostles
would betray him and that would be Judas.

Despite the assertions of each Apostle that it would not be he,
Jesus is described as reiterating that it would be one of those who were present,
and goes on to say that there shall be woe to the man who betrays the Son of Man!
It would be better for him
if he had not been born
(Mark 14:20-21).
It is only in the Gospel of Matthew (Matthew 26:23-26:25)
and The Gospel of John
(John 13:26-13:27)
where Judas Iscariot is specifically singled out.
This is the very moment poignantly portrayed in Leonardo da Vinci's The Last Supper.

As well as the prediction of betrayal,
the four canonical gospels recount that Jesus knew the Apostles (disciples)
would fall away. Simon Peter states that he will not abandon Jesus even if the others do,
but Jesus tells him that Peter would deny Jesus thrice
before the cock had crowed twice.

Peter is described as continuing to deny it,
stating that he would remain true even if it meant death, and the other
apostles are described as stating
the same about themselves.

According to the descriptions of the painting Of The Last Supper by`Tintoretto`.
~*`The Last Supper~*~
` (1594) by Tintoretto.`
Presentation by:
~'MJB'~

********************************************
`*`Bread Of Life`*`

We take part in the sharing of bread with Jesus,
As he gave His Life for us,
In remembrance and thankfulness,
in Him we put our trust.
Asking for forgiveness for our weakness of sinful lust
He died for you and me with our sins upon the cross.

He offered `bread and wine` as salvation
for all mankind!
~*~
Copyright©*2008*
~`MJB`~







~*CopyRights Reserved*2008*~

*©*MAR*2013*' Revised Excerpts '....
~*Never Ending Circle Of Love Manuscripts' *~
a.k.a....angelic`heavenly`star...



~*~*********************************************~*~




~`+`~
'If The Savior Stood Beside Me'
Uploaded on Apr 15, 2010
~`+`~
"Jesus said...Suffer the little children to come unto me,
and forbid them not: for of such is the kingdom of God" (Mark 10:14)
~`+`~
The song "If The Savior Stood Beside Me"
was composed by Sally DeFord
and performed by James Loynes. It can be found and downloaded
from www.defordmusic.com or jamesloynes.com.
~`+`~
This is a quote from the composer's website:
"" If The Savior Stood Beside Me"
is a song I wrote for my daughter Holly
when she turned eight years old.
I wrote a song for each of my children, and this one was hers.
Holly was such a good example! She was always so kind
and loved others so much,
it seemed as though she knew Jesus was always close beside her,
taking care of her and loving her. My young friends,
if you will live every day of your life as though you could
see the Savior
standing right beside you, you will be happy,
and you will be ready to live with Him again some day.
He loves you and will always--always!--watch over you."
~`+`~
The artwork in this video is by Greg Olsen, Del Parsons,
and Scott Summer.




©2000 - 2021, Individual Authors of the Poetry. All rights reserved by authors.
Visit My Home Page | Start Your Own Poetry Site | PoetryPoem
[ Control Panel ] [ Today's Poetry - ALL Poets ] [ Search ]