~`+`~FEAST DAY OF THE ASSUMPTION OF BLESSED VIRGIN MARY~`+`~
~`+`~`DIVINE LOVE OF A MOTHER & FATHER`~`+`~
~`+`~FEAST OF THE TRANSFIGURATION OF JESUS~`+`~
~`+`~THE RAINBOW PROMISE~`+`~
~`+`~SACRAMENT OF THE HOLY EUCHARIST~`+`~
~`+`~MOTHER TERESA SPEAKS ON PRO-FAMILY LIFE`~`+`~
'WELCOME TO MY CHRISTIAN SITE OF /FAITH 'HOPE`LOVE&PRAYER'
~`+`~FEAST OF PENTECOST SUNDAY~`+`~
~`+`~10/07~`FEAST OF OUR LADY OF THE ROSARY ~`+`~
~`+`~FEAST OF THE HOLY FAMILY ~ DEC*29*13*~`+`~
~`+`~FEAST OF THE EPIPHANY~+~THREE KINGS OF THE ORIENT~`+`~
~`+`~POWERFUL MYSTERY OF THE HOLY ROSARY~`+`~
~`+`~ GOOD SHEPHERD SUNDAY - MAY 11, 2014~+`~
~`+`~LIFE AND BLESSINGS OF ST PATRICK OF IRELAND~`+`~
~`+`~A SPECIAL MOTHER'S DAY TRIBUTE~`+`~
~`+`~PRAYERS AND TEARS IN HEAVEN~`+`~
~`+`~ ST. THOMAS APOSTLE OF JESUS OF NAZARETH ~`+`~
~`+`~`SAINT MICHAEL THE ARCHANGEL`~`+`~
~`+`~ASH WEDNESDAY ~ FIRST DAY OF LENT`+`~(Revised w/ Note!)
~*+*~LENT SEASON` STATIONS OF THE CROSS~*+*~
~`+`~SPECIAL HOLY WEEK OF LENT~`+`~Dedication}*
~`+`~WHEN AND HOW THE TWELVE APOSTLES OF JESUS CHRIST DIED~`+`~
~`+`~THE VISITATION`~`MARY VISITS ELIZABETH~`+`~
~`+`~JESUS AND THE SAMARITAN WOMAN AT THE WELL~`+`~
~`+`~THE RESURRECTION AND ASCENSION OF JESUS CHRIST~`+`~
~`+`~ANGELIC HEAVENLY STAR 'S AUTHOR PAGE~`+`~
~`+`~STORY OF MARY~MOTHER OF JESUS~`+`~#2
~`+`~MARY OF NAZARETH~MOTHER OF JESUS~FULL MOVIE~`+`~
~*`MARCH FOR LIFE` ANNIVERSARY CELEBRATION BY NEW BORN LIFE`*~
~`+`~WHAT THE WORLD NEEDS NOW IS JESUS LOVE~`+`~
~`+`~SAINT BERNADETTE OF LOURDES~`+`~
~`+`~2014 MARCH FOR `PRO LIFE` IN WASHINGTON DC`+`~
More Poetry >>
'RePost'~`+`~CHERISHED FRIENDS ARE STARS CREATED BY GOD~`+`~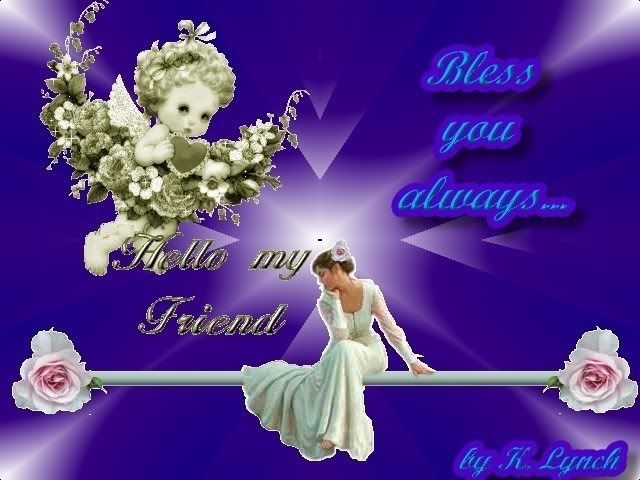 Due to the awesome `reviews` I am `re`posting,,
thanks my sweet darlings for your kind and very appreciate words of encouragement and love!

'RePost'~`+`~CHERISHED FRIENDS ARE STARS...
~`+`~`CREATED BY GOD`~`+`~

~*~♥~*~

~*` FRIENDS ARE LIKE STARS `*~
~ ~ ~
...Friends Are Like Stars...They Come And Go...
...But the Ones That Stay...Are The Ones That Glow...

If you should appear at twilight's glow
Heavenly stars shall sprinkle love below
Spreading stardust with winds that blow
Touching your hearts with love to grow!




`GOD HAS BLESSED ME WITH`....

A BAND OF WINGLESS ANGELS WHO
GLORIOUSLY GLOWS

SHARING BRIGHTNESS IN HELPING
THE WORLD TO KNOW

KNOWLEDGE OF LOVE IS A GIFT
FROM GOD ABOVE

TEACHING US HOW TO BE HUMBLE
IN SHARING HIS LOVE




THEIR STAR LIGHT SHINES BRIGHTLY
WITH HOLY LOVE

CARRIED SWIFTLY ON WINGS OF
A PURE WHITE DOVE

THEY SEEM TO KNOW EXACTLY WHEN
A HEART IS BLUE

NEEDING THE GENTLE TOUCH OF
INSPIRATION SO TRUE




WHEN YOU ARE LOST LOOK UP TO
STARS IN THE SKY

YOU'LL SEE THAT A BAND OF
WINGLESS ANGELS DO FLY

REACH OUT AND JOIN IN THEIR
PROTECTIVE BAND

SPREADING LOVE THROUGHOUT ALL
OF GOD'S CREATED LAND




*********************
*©*2008*all rights reserved..




`Reviewed*©*2013*
`Never Ending Circle Of Love`



*************************************



~*`CHERISHED FRIENDS`*~





God must have known there would be times
we'd need a word of cheer,
Someone to praise a triumph or brush away a tear.





He must have known we'd need to share the
joy of "little things"
In order to appreciate the happiness life brings.




I think He knew our troubled hearts would
sometimes throb with pain,
At trials and misfortunes,or goals we can't attain.





He knew we'd need the comfort of an
understanding heart
To give us strength and courage to make a fresh,
new start.




He knew we'd need companionship, unselfish....lasting....true,
And so God answered the heart's great need with
Cherished Friends....like you!

~Author Unknown~





~*`NEW LIFE`*~




Its a long road to nowhere
When you have already been everywhere
Plans you have planted along the way
Are now part of yesterday





Like cherry blossoms blowing in
wind over fences
Flowing softly through the air
intoxicating senses
Never returning as before but
leaving memories of sight
In appreciating its reappearance
in spring's new life




©*2009*~all rights reserved
~`MJB`~





Graphics/Audio/Revised:©*2013*
a.k.a.'MJB'
Never Ending Circle of Love`
`Janie/mjfb1954`





==========~`+`~==========

~*+*~



~*~♥~*~
Copyrights Reserved*©*2006*&*©*2008*
*©*June*2013*' Revised Excerpts '....
~*Never Ending Circle Of Love Manuscripts' *~
...angelic*heavenly`star...
a.k.a.~'MJB'~


~*~♥~*~
~*~*********************************************~*~
~*~♥~*~











©2000 - 2021 ------- Individual Authors of the Poetry. All rights reserved by authors



Sign Guestbook

Read Guestbook

[ Control Panel ]
Last 100 Poems