Alwaysawarrior
1,309,337 poems read
WE WHO SERVED WILL NEVER FORGET OUR BROTHERS!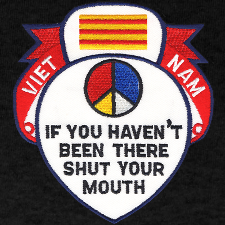 There are many things said about us who served
By the coward's who ran away across the border
To hide out in Canada with all the other cowards

They hid under rocks and in the sewers like rats
Then when the war was finally done and over with
They came back here to point their fingers at us

They spouted off their hatred for those who served
Trying to make us feel guilty because we had fought
When in reality it was they who had been the cowards

Ever since then they have spewed out their rantings
Calling us baby killers and many other hateful names
Then they tried rewriting what really happen there

Trying to revise history to fit their guilty needs
Because deep down inside of them they know the truth
That they were the ones who had run away to Canada

It's hard to tell it as it was when you weren't there
When they ran from their own country as COWARDS!!!!!!
So it doesn't matter what they may say about any of us

Because no matter how hard they try to twist the facts
It won't change history and we'll never feel any guilt
That we heard the pleas for help from those who called

And all of their rantings just prove they were cowards
They were then and always will be cowards in my eyes
They had nothing but contempt for those much braver men



© Terry Sasek - Always A Warrior - all rights reserved.


We who served will never forget our fellow veterans or the
warriors of today who are now serving in defense of freedom
and as far as those who have nothing but negative things to
say about us and use all those very old stero-type garbage
statements that they spout off all the time about those of
us who did serve honorably, I would just say this to those
low life parasite idiots who rant and rave on and on about
belittling and condeming those of us who served honorably,
"VIETNAM - IF YOU HAVEN'T BEEN THERE SHUT YOUR MOUTH".