~`+`~LIFE OF MARY~THE MOTHER OF JESUS~`+`~{Review By Popular Demand}


~`+`~MARY~THE MOTHER OF JESUS~`+`~
~`+`~LIFE OF MARY~THE MOTHER OF JESUS~`+`~{Review By Popular Demand}
'Source::Excerpts From Wikipedia,
- the free encyclopedia -

Family and Early Life:

The New Testament tells little of Mary's early history.
The 2nd century Gospel of James is the first source
to name her parents as Joachim and Anne.[14]

According to Luke, Mary was a cousin of Elizabeth,
wife of the priest Zechariah of the priestly division
of Abijah, who was herself part of the lineage of Aaron
and so of the tribe of Levi.[Luke 1:5;1:36]
Some of those who consider that the relationship
with Elizabeth was on the maternal side,
consider that Mary, like Joseph, to whom she
was betrothed, was of the House of David and so
of the tribe of Judah, and that the genealogy of
Jesus presented in Luke 3 from Nathan, third son
of David and Bathsheba, is in fact the genealogy
of Mary, while the genealogy from Solomon given
in Matthew 1 is that of Joseph.[15][16]
(Aaron's wife Elisheba was of the tribe of Judah,
so all his descendents are from both Levi and J
udah.)[Num.1:7 & Ex.6:23]

The Virgin's First Seven Steps Mosaic From
Chora Church, c. 12th Century:
~`+`~
Mary resided in "her own house"[Lk.1:56] in
Nazareth in Galilee, possibly with her parents,
and during her betrothal—the first stage of
a Jewish marriage—the angel Gabriel announced
to her that she was to be the mother of the
promised Messiah by conceiving him through the
Holy Spirit.[17] After a number of months, when
Joseph was told of her conception in a dream
by "an angel of the Lord", he was surprised;
but the angel told him to be unafraid and take
her as his wife, which Joseph did, thereby
formally completing the wedding rites.[18]MT]




Since the angel Gabriel had told Mary
(according to Luke 1:19) that Elizabeth—having
previously been barren—was then miraculously
pregnant, Mary hurried to see Elizabeth, who was
living with her husband Zechariah in "Hebron,
in the hill country of Judah".[19] Mary arrived
at the house and greeted Elizabeth who called
Mary "the mother of my Lord", and Mary spoke
the words of praise that later became known as
the Magnificat from her first word in the
Latin version.[Luke 1:46-55] After about three
months, Mary returned to her own house.[Lk 1:56-57]

According to the Gospel of Luke, a decree of the
Roman emperor Augustus required that Joseph return
to his hometown of Bethlehem to be taxed. While
he was there with Mary, she gave birth to Jesus;
but because there was no place for them in the inn,
she used a manger as a cradle.-[20]:p.14 [2:1ff]
After eight days, he was circumcised according to
Jewish law, and named "JESUS"[Luke 2:21] in accordance
with the instructions that the angel had given to Mary
in Luke 1:31, and Joseph was likewise told to call
him Jesus in Matthew 1:21.




After Mary continued in the "blood of her purifying"
another 33 days for a total of 40 days, she brought
her burnt offering and sin offering to the temple
[citation needed], so the priest could make atonement
for her sins, being cleansed from her blood.
[Leviticus 12:1-8] They also presented Jesus—
"As it is written in the law of the Lord,
Every male that openeth the womb shall be called
holy to the Lord" (Luke 2:23)

After the prophecies of Simeon and the prophetess
Anna in Luke 2:25-38 concluded,
Joseph and Mary took Jesus and "returned into Galilee,
to their own city Nazareth".[Luke 2:39]

Sometime later, the "wise men" showed up at the
"house" where Jesus and his family were staying,
and they fled by night and stayed in Egypt
for awhile, and returned after Herod died in 4 BC
and took up residence in Nazareth.[Mat.2]

Mary In The Life of Jesus:
~`+`~
Stabat Mater in the Valle Romita Polyptych
by Gentile da Fabriano, c. 1410-1412

Mary is involved in the only event in Jesus'
adolescent life that is recorded In the New Testament.
At the age of twelve Jesus, having become separated
from his parents on their return journey from
the Passover celebration in Jerusalem, was found
among the teachers in the temple.[21]:p.210 [Lk 2:41-52]




After Jesus' baptism by John the Baptist and his
temptations by the devil in the desert, Mary
was present when, at her suggestion, Jesus worked
his first Cana miracle during a marriage they attended,
by turning water into wine.[Jn 2:1-11]
Subsequently there are events when Mary is present
along with James, Joseph, Simon, and Judas, called
Jesus' brothers, and unnamed "sisters". [Mt 1:24-25]
[12:46] [13:54-56] [27:56] [Mk 3:31]
[6:3] [15:40] [16:1] [Jn 2:12] [7:3-5] [Gal 1:19]
Following Jerome, the Church Fathers interpreted
the words translated as "brother" and "sister"
as referring to close relatives.[22] [23]

There is also an incident in which Jesus is
sometimes interpreted as rejecting his family.
"And his mother and his brothers arrived,
and standing outside, they sent in a message
asking for him[Mk 3:21] ...
And looking at those who sat in a circle around him,
Jesus said, 'These are my mother and my brothers.
Whoever does the will of God is my brother,
and sister, and mother.'"[24][3:31-35]




Mary is also depicted as being present among
the women at the crucifixion during the crucifixion
standing near "the disciple whom Jesus loved"
along with Mary of Clopas and Mary Magdalene,
[Jn 19:25-26] to which Matthew 27:56 adds
"the mother of the sons of Zebedee", presumably the
Salome mentioned in Mark 15:40. This representation
is called a Stabat Mater.[25][26]

Mary, cradling the dead body of her Son, while not
recorded in the Gospel accounts, is a common motif
in art, called a "pietà" or "pity".

After the Ascension of Jesus:
~`+`~
In Acts 1:26, especially v. 14, Mary is the only
one to be mentioned by name other than the eleven
apostles, who abode in the upper room,
when they returned from mount Olivet.
(It is not stated where the later gathering of
about one hundred and twenty disciples was located,
when they elected Matthias to fill the office of
Judas Iscariot who perished.)

Some speculate that the "elect lady" mentioned
in 2 John 1:1 may be Mary. From this time, she
disappears from the biblical accounts, although
it is held by Catholics that she is again portrayed
as the `heavenly woman of Revelation.[Rev 12:1]




Her death is not recorded in the scripture.
However, Catholic and Orthodox tradition
and doctrine have her assumed (taken bodily)
into Heaven. Belief in the corporeal assumption
of Mary is universal to Catholicism,
in both Eastern and Western Catholic Churches,
as well as the Eastern Orthodox Church,[27][28]
Coptic Churches, and parts of the Anglican
Communion and Continuing Anglican Churches.[29]

Later Christian Writings and Traditions:
~`+`~
According to the apocryphal Gospel of James
Mary was the daughter of Saint Joachim and
Saint Anne. Before Mary's conception Anna
had been barren. Mary was given to service
as a consecrated virgin in the Temple in
Jerusalem when she was three years old, much
like Hannah took Samuel to the Tabernacle
as recorded in the Old Testament.[30] Some
apocryphal accounts state that at the time of
her betrothal to Joseph Mary was 12–14 years old,
and he was ninety years old, but such accounts
are unreliable.[31]

According to Sacred Tradition, Mary died
surrounded by the apostles (in either Jerusalem
or Ephesus) between three days and 24 years after
Christ's ascension. When the apostles later opened
her tomb, they found it to be empty and they
concluded that she had been assumed into Heaven.
[28][32] Mary's Tomb, an empty tomb in Jerusalem,
is attributed to Mary.[33] The Roman Catholic Church
teaches Mary's assumption, but does not teach
that she necessarily died.[34][35]

Hyppolitus of Thebes claims that Mary lived for 11
years after the death of her Son, dying in 41 AD.[36]
The earliest extant biographical writing on Mary
is Life of the Virgin attributed to the 7th-century
saint, Maximus the Confessor which portrays her
as a key element of the early Christian Church after
the death of Jesus.[37][38][39]




In the 19th century, a house near Ephesus in Turkey
was found, based on the visions of Anne Catherine Emmerich,
an Augustinian nun in Germany.[40][41]
It has since been visited as the House of the Virgin Mary
by Roman Catholic pilgrims who consider it the place
where Mary lived until her assumption.[42][43][44][45]
The Gospel of John states that Mary went to live with
the Disciple whom Jesus loved,[Jn 19:27] identified as
John the Evangelist. Irenaeus and Eusebius of Caesarea
wrote in their histories that John later went to Ephesus,
which may provide the basis for the early belief that
Mary also lived in Ephesus with John.[46][47]





==========`+`==========

`Poetry by Angelic Star`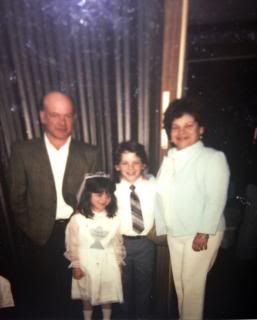 '*'MY PRECIOUS ANGEL'*'

My little girl is as precious as can be
in bringing back sweet memories to me

Unknowingly her actions reflect her love
as her life is guided from God above

In taking a stray kitten into her heart
she displayed compassion of her start

As a child angelic deeds have been sown
now an adult she has angels of her own

Sweet memories come back flooding my mind
of younger days when she was mine

Curves and mountains thrown into her life
Belief in God overcomes her strife

Her created soulmate now has her love
to share in merits of accepting God

To both I wish nothing but the very best
In God's Hands I I leave all the rest...

Her virtues are blessings to her Dad and me
We thank God for letting us see!




***`+`***

`I am but a star in the heavens above
guiding over you in God's eternal love
I once was a soul like you on earth
now a heavenly star in miracle of rebirth!

***`+`***

*©*2013*' Revised Excerpts '....
~*Never Ending Circle Of Love Manuscripts' *~
a.k.a...'Angelic`Heavenly`Star`
~`MJB`~




~`+`~`OUR SPECIAL ANGELS`~`+`~


YOU ARE OUR SPECIAL ANGELS
SENT FROM HEAVEN ABOVE
A GIFT FROM GOD FOR US TO LOVE




YOU WILL FINALLY BE IN OUR ARMS
WHEN WE SHARE YOUR LOVELY CHARMS
WE HAVE WAITED MUCH TOO LONG
FOR YOU TO JOIN US IN JOYOUS SONG




WE PROMISE TO BE FAITHFULLY TRUE
IN SHARING GOD'S LOVE WITH YOU
OUR PROMISES HEARD BY GOD ABOVE
BINDS US IN EVERLASTING LOVE




TOGETHER WE'LL GO ON FROM HERE
OUR LOVE WILL ALWAYS BE NEAR
OUR DREAMS HAVE FINALLY COME TRUE
WHEN GOD MADE ANGELS LIKE YOU!






~*CopyRights Reserved*2008*~

*©*Jan*2013*' Revised Excerpts '....
~*Never Ending Circle Of Love Manuscripts' *~
a.k.a....angelic`heavenly`star...




~*~*********************************************~*~



*audio*
`Instrumental Guitar`
`My Special Prayer``






©2000 - 2022, Individual Authors of the Poetry. All rights reserved by authors.
Visit My Home Page | Start Your Own Poetry Site | PoetryPoem
[ Control Panel ] [ Today's Poetry - ALL Poets ] [ Search ]