Poet
rusty5
:
Passions in Paris: Revelations of a Lost Diary

by Rusty Blackwood


I am very proud to announce the RELEASE of my new romance/drama "Passions in Paris: Revelations of a Lost Diary"
A forgotten diary, lost for forty years, reveals the story of a rediscovered love nearly lost in 1999 Paris. An unforgettable romance filled with danger, intrigue, and a love without boundaries, Passions in Paris: Revelations of a Lost Diary tells the story of forbidden love, salacious adultery, cunning jealousy, and unrequited passion. This complex and stirring story, revolving around star-crossed soul mates, Canadian author Joy Wychmere, and Irish actor Cullen Malone, tells how their immeasurable love is put to the test by three vindictive people, the worst, namely Philippe Robealard, a delusional, misguided homosexual artist who is determined to make the unsuspecting actor suffer for stealing the man he loves, until he has paid in full with his life. Joy and Cully battle through a series of misunderstandings, embarrassment, torture, and injury until Joy is left fighting to survive a direct gunshot, while Cullen is given the choice of consuming a bottle of barbiturates - certain to take his life - or lose Joy forever if he does not. If this is not enough, the trapped couple's fate grows direr when fire is discovered raging toward them. Endurance and determination is stretched to the limit, asking if love truly can survive all odds, and time.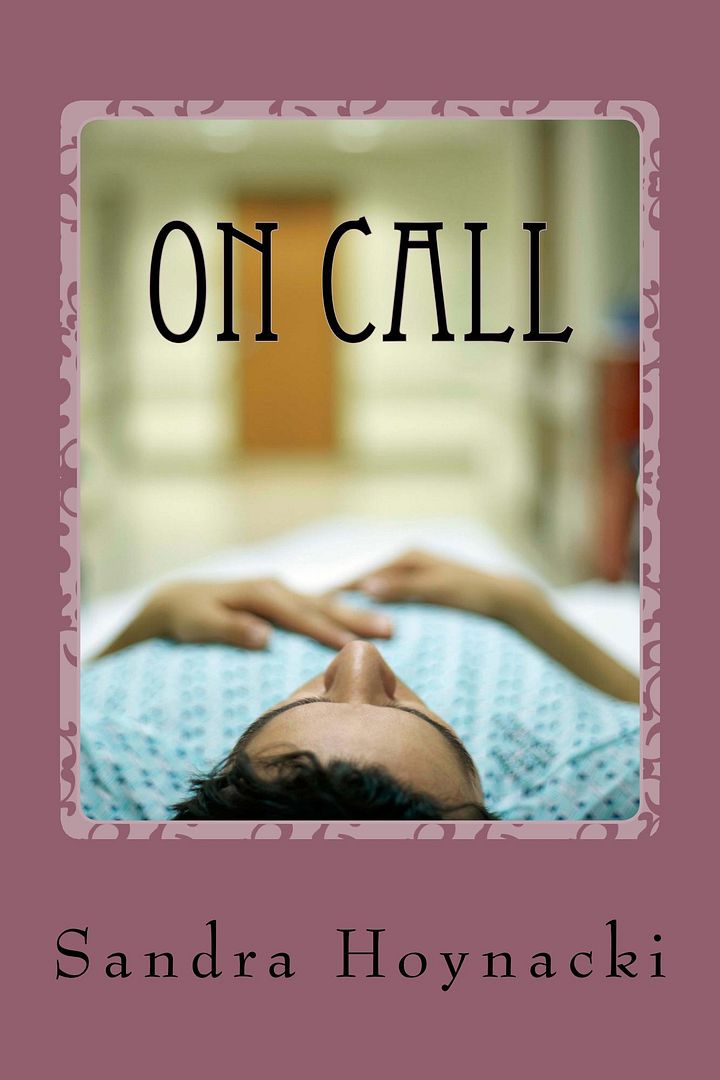 Poet
poetic2050
:
ON CALL

by Sandra Hoynacki
As the author sweeps you toward the edge of your mind, she presents two nurses who begin their walk inside the hallways of corruption and death. Little do Jenny and Kathy realize they are up against a backdrop of superior intellectual powers embodied in an elite group inside the local hospital. Jenny and Kathy try to plan an escape until another sinister plot is revealed that takes them further into a world never before traveled by normal human beings. Steve and Maggie , brother and sister, find their own roles as lawyer and psychiatrist being monopolized by the same force. The objective is world domination, and the tactics to achieve that are ominous. Who or what is the driving force behind the escalating number of Code Blue events?
Poet
jackspoems
:
Security Police Vietnam & Thailand War Stories

by Jackie R. Kays


Collection of Vietnam and Thailand War Stories.
Poet jackspoems: To Die Alone by

Jackie R. Kays
This novel has a fast pace plot, that takes the reader from California to Vietnam and back. The main character is an Air police Investigator, who is investigating a desertion case (Cold case). His Investigation quickly reveals the possibility that the Airmen did not desert, but in fact, was probably murdered. As an Air Police Investigator and later as a San Bernardino County Sheriff's detective, the pursuit of this suspect becomes an obsession. This story is based on several true events. Some of the names of the characters are real (used with the permission of the individual). If you like intrigue, the battle against injustice, murder, war stories, and surprises, then you will not be able to put this novel down!
Poet
jackspoems
:
The Stone Throwers

by Jackie R. Kays
A fast-paced action adventure that unfolds immediately after the end of the Vietnam war. The Stone Throwers involves, murder, revenge, intrigue and misplaced loyalties.The Stone Throwers is a novel about a series of events that occurs during and immediately after the Vietnam War. The storyline involves a group of ex-military enraged over the amnesty granted the 200,000 Vietnam War draft evaders. They formed an assassination team and attempted to eliminate as many draft evaders.
Poet
jackspoems
:
The Legend of the Lost Cave
by Jackie R. Kays
The five young characters portrayed in this short story do not represent any one individual; they are, in fact, a composite of characteristics from the childhood friends of this writer. This story is based on retrospect of a time, when great strife was occurring throughout the world. The people, especially the children of the United States, were experiencing sacrifices of some basic comforts, due to the war effort. The author''s memories of those times are still vivid, and are reflected in this novelette.
Poet

jackspoems: "The Bounty Hunters" by Jackie R. Kays "There is no hunt like hunting an evil man. Once those who do hunt the dangerous armed man long enough will never be satisfied doing anything else. Their taste for other things will be forever destroyed by the sweet taste of the hunt, and the final capture or kill!"




Poet
curran
:
Holding Hands With Reality

by Curran Jeffery


Birth, life, death, the passing of generations, addictions, religion, faith, sex, politics, war, jobs. hurricanes, technology, reality--all of these things touch our lives and are a part of who we are. Holding Hands With Reality records poetry and prose spanning 50 years of observing, participating and living in these realities. Holding Hands with Reality is available from amazon.com and can be previewed at curranjournal.com
Poet
stantasyland
:
Poetic Verses
by Stanley Victor Paskavich
(Author)
Stantasyland is compiled from different times and beliefs in my life; some of the poems go back 30 years. I write about life, self, religion, and spirituality, along with other things. Often I write per perspective. I don't intend to convince, confirm, or condemn with my writings, just possibly stimulate some different lines of thought. I respect anyone who is convinced in their belief and convictions, and/or belief system as long as they don't use it as a weapon against another.
Poet
valleyroad
:
In The Trees Beside The River
by Sidney Earl Johnson
A book of poetry, prose and prayer with scripture references.
Poet
valleyroad
:
Still Clinging To The Cross
by Sidney Earl Johnson
Still Clinging to the cross is another selection of beautiful poetry that is spiritually uplifting and encouraging to the true believer. Each poem is a tribute to those have endured the trials of life and been vidtorious.
Poet
judithjohnsonkypta
:
Dancing with the Lord
by Judith Johnson Kypta
There are poems I have written within, for everyone. The main thing I wanted to relay to you, is the "Love" that Jesus Christ has for each and every one of us. "Dancing With The Lord" would make a great for persons of all ages. I say this, simply because we need "Jesus" at any age. The deep meaning written into most of my poetry is that "God" loves us, no matter where we are in life, or what we have done. . .He waits.
Poet
wordrider1
:
Word Rider's This and That
by George Platt
Out of 129 million books published, Wordrider's
book "This and That" is ranked at 13 million. That's in the top 10%
Wordrider's This and That is a mixture of poems and song lyrics about a range of feelings. Words about love, broken hearts, things that might be silly, and abuse by husband, boyfriend, friend or family member.
I try to convey feelings that might have you touching the sky, walking with a rain cloud overhead, or maybe shaking your hear in wonderment. You might laugh, cry, or be left scratching your head.
My hope is that my poems or songs will let someone know they aren't alone in what they have been through, and that tomorrow can be better. That faith will see you through.
Poet
waterdragon
:
"
Out of Cullen Street (A House of Madness)"
by Rebecca Guile Hudson
takes the readers on a dark journey from the writer's torture-filled childhood into forgiveness and healing. Anyone interested in the incredible abilities of the mind to heal and find sanity amidst violence, perversion and mental illness will identify with, and be touched, moved and inspired by, this fascinating true-life story. In "Cullen Street", the author, a self-described Goodwill Ambassador and Instrument of Peace,uses paper as her canvas and words as her colors.
The result is remarkable.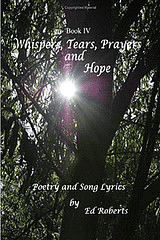 Poet
apoetslaststand
"

Whispers, Tears, Prayers and Hope"
by Ed Roberts
Ed, you've captured the essence of the many footprints we leave along this journey of life, some that seem to take us down paths that find us standing alone with burdens and loved ones we lost and grief, loneliness, pain we've encountered along the way, and yet when moments of recollection come especially occasions such as this as you themed your poem with, the lost love recultivated and to cherish for life... that embraces us for all that has made us who we are, it makes each footstep seem as if it was taking us into a place of destiny that makes every moment worth it all. Beautifully scripted, Ed so realistic when it was worded by a pro like you... and your closing verses lend wings of inspiration that lift the heart and soul into higher realms. Wonderful poetry takes on another realm when the closing is beautiful and touches the heart in a soft linger, exactly what this does...
Poet crtv "Early childhood poems" by David Munjuga
Early childhood poems is a book suitable for readers from age 5-8.
It contains 43 poems based on mathematical and environmental concepts such as number sequence, number value, things found at home and the weather.
It also contains various topical poems based on every day life things which make the book interesting and fun for the young ones to read.
It is my intention that when the children finish the book, they will have gotten a grasp of the key academic concepts required for children their age and also an appreciation for poetry.
Poet
jackiemoore
Poetic Sermons
by
Jackie W Moore
This book is inspired by the Word of God, to inspire, teach and give hope to all that read it. Each poem comes with an interpretation for todays real life events. Jackie has a gift of creativity and poetry that has developed into a talent to share the Word of God.

©2000 - 2021, Individual Authors of the Poetry. All rights reserved by authors.
Visit My Home Page | Start Your Own Poetry Site | PoetryPoem
[ Control Panel ]
[ Today's Poetry - ALL Poets ]
[ Search ]