A TUMBLE DRYER IS NOT FOR ME




A TUMBLE DRYER IS NOT FOR ME




A tumble dryer is not for me
I like to hang my clothes you see,
I love to see them on the line
Even when the weather isn`t fine.




No matter the weather they always dry
It must be your garden my daughter will cry
I have to laugh but I know she is right
It`s just a fact much to my delight.




She asks `Will you dry some clothes for me`
This makes me as happy as can be,
I love it when it`s the children`s things
A delightful feeling this always brings.




Small pants and shirts and little vests,
These are my favourites I have confessed,
A line full of baby clothes is great to see
It always makes me feel so happy.




They`re put on the line with tender care
All the socks make a matching pair,
I colour code the pegs to match the clothes
The sun then shines and the wind blows.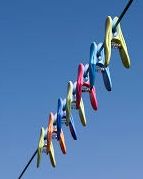 So a tumble dryer is not for me
It doesn`t have the same appeal you see,
It dries the clothes okay that`s fine
But you can`t beat the old fashioned clothesline.






copyrightę2013 Elsie


Elsie`s Poetry ~*~ Poet5170
http://poetrypoem.com/poet5170




©2000 - 2022, Individual Authors of the Poetry. All rights reserved by authors.
Visit My Home Page | Start Your Own Poetry Site | PoetryPoem
[ Control Panel ] [ Today's Poetry - ALL Poets ] [ Search ]