Alwaysawarrior
1,309,544 poems read
SOME THINGS ARE FORGIVEN BUT NEVER FORGOTTEN !


Life is to short and it can be bitter or sweet
Some can never let go of the past and suffer so
They can only remember the many bitter moments


There are those who can look at the past issues
And try to only remember those good sweet times
Not wanting to recall things said or done to us


Many have lived their lives with those memories
If we can never forget the bad times we suffered
We don't really live, just go through the motions


And though many are justified in their pain felt
At some point in time we must all move on as well
Maybe we will forgive but never forget those times


Many were hurt far worse at home than in the war
They've managed to put away their anger and pain
They have moved on in life and were successful


It's hard to explain this bitterness we have felt
Or how it has controlled our lives and our actions
Many feel the need to finish the fight we never lost



© Terry Sasek - Always A Warrior - all rights reserved.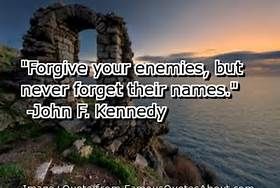 SOMETIMES WE CAN FORGIVE OTHER PEOPLE FOR THE THINGS THEY HAD
DONE TO US, BUT THEN TOO AT THE SAME TIME WE WILL NEVER FORGET
THOSE PEOPLE OR THEIR OWN ACTIONS AND INJUSTICES THAT THEY HAD
INFLICTED UPON MANY OF US. WE'LL TRY TO FORGIVE AND FORGET BUT
IT IS STILL VERY HARD FOR MANY OF US, BUT WE MUST AT LEAST TRY!



























Comment On This Poem ---
SOME THINGS ARE FORGIVEN BUT NEVER FORGOTTEN !