~*`A HAPPY BLESSED BIRTHDAY TO DORIS (countrypoet) with tons of love`*~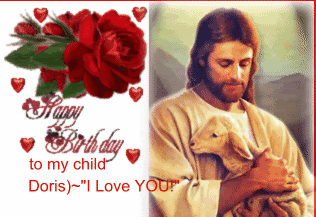 'HAPPY BIRTHDAY`DORIS / COUNTRYPOET`
~*`♥`
`Happy Birthday To Doris, Our Country Poetess!
`Brought To Earth On The Eve Of A Bright New Year`


`Angels were singing with joyful love
As a soul floated to earth from heaven above
Destined to be a servant of God on earth
Rejoicing in the transformation of birth
Special powers were given this child to bear
In inspiring the world of God's loving care


Thank-You Lord for sending us your child of beauty
Entrusting to her soul through your divine duty
The powerful talent of teaching with words of love
As she praises your throne in the heavens above


`Thank-You Doris, Our Dear Friend In Poetry,
For All Of Your Inspiring Writes Here On PP
Preaching The Word Of God'In An Inspiring Style
Which Brings Souls Back To Our Shepard's Fold
Without Undue Pressure, But With Love Instead!

`Doris, Our Dear Loving Sister In Christ`
May God Bless You Thousandfold With Comfort Of Soul
Love, Peace ,Joy and Health, in This New Year of `2010`
And Forever After!

`We All Love You and Your Beloved Ish.
Never To Be Forgotten! God Bless!





©*2009*
~'MJB'~

`love & aloha hugs`
`Janie`1954`

Doris, Sweet Earth Angel,
This is a Repost Birthday Poem of love from 12/31/09
***********END OF YEAR *2010**********
And you made it through the year '2010' With Dignity,
and Love for Our Lord, His Word, and His Creation'
Including all of us
with wisdom and loving humanity,
how can we ever thank you for your love
and kindness to all?
I'll be re`posting this Birthday Poem Of Love
and Gratitude to you, my darling friend,
next year at the end of ;2011'...2012. 2013
and many more years after that,
as long as I am here to do it, LOL!
Love, aloha hugs and Jesus Blessings
from all of our hearts to you,
Our Sweet Doris, Countrypoet!
and most of all a `kiss to your `little feet`
from your Beloved Ish, who holds you dearly
in his Soul right now!..Amen!

`"HAPPY BLESSED BIRTHDAY, DORIS!"
Your forever friend, Janie
~a.k.a.'MJB'~

Doris, darling, hope you don't mind all the `re`posting..`
will be posting another one tomorrow...
our friendship goes back a long way!
love from all of us!
have a wonderful birthday my friend!


Vote for this poem
| | |
| --- | --- |
| Please Comment On This Poem | |