``SPECIAL HAPPY BIRTHDAY TO DORIS (countrypoet``)

~*~**~*~
Happy Birthday To Dearest Doris`~*~**~*~
``SPECIAL BIRTHDAY GREETINGS TO DORIS/countrypoet``
`SORRY FOR THE LATE GREETING MY FRIEND.
I HAD TO BAKE YOU A CAKE FIRST, LOl!

``HAPPY BIRTHDAY MY SWEET FRIEND!``
YOU SHOULD HAVE GIVEN ME MORE NOTICE,
THAT TODAY IS YOUR SPECIAL DAY, MY DEAREST FRIEND,
SURELY I WOULD HAVE BAKED YOU A CAKE.LOL!!
I FOUND ONE ALREADY BAKED, HOPE YOU LIKE IT!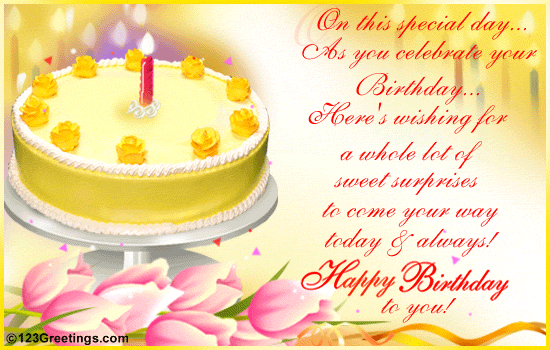 SERIOUSLY, DEAR DORIS, I WISH FOR YOU ALL THE BEST,
YOU HAVE BEEN SUCH A TRUE AND LOYAL FRIEND,
ALWAYS READY TO PICK ME UP,WHEN I AM DOWN,
WITH YOUR INSPIRING POEMS AND SWEET FRIENDLY ,
COMPASSIONATE WORDS!

MAY YOU BE BLESSED WITH A THOUSAND MORE BIRTHDAYS,
MY DEAR, I KEEP YOU IN MY PRAYERS ALWAYS,
THIS IS THE BEST GIFT I CAN GIVE YOU ,
MY FRIEND, AND I ASK FOR OUR ANCESTORS TO GUIDE
AND PROTECT YOU FROM ALL HARM
WITH WISDOM OF OUR GREAT FATHER SKY!,
TAKE CARE WITH LOVE, FROM MYSELF
AND A LOT OF OTHERS HERE AT PP!






' MAY YOU ALWAYS WALK WITH THE SPIRIT WIND AT YOUR BACK'
EACH AND EVERY DAY!
MUCH LOVE,
ANGEL ROSE
Happy Birthday Once Again!
May The Light Of Peace, Hope & Love
follow you from early rising of dawn
till twilight of the descending sun!
YNWA!

``©``Dec/31/13...Coincidentally , A Very Special Day,
for Both of My Dearest Friends..
'HAPPY BIRTHDAY TO DORIS'(countrypoet)
and
'HAPPY WEDDING ANNIVERSARY TO JANIE'(mjfb1954)

'MAY BOTH OF YOU `GREAT LADIES` OF INSPIRATION
BE ABUNDANTLY BLESSED WITH LOVE, PEACE AND GOOD HEALTH
IN THE COMING YEAR OF `2014` AND FOREVERMORE!

'Enchantingly Yours'
''AngelRose''