Alwaysawarrior
1,313,644 poems read
A FATHER'S LOVE FOR HIS SON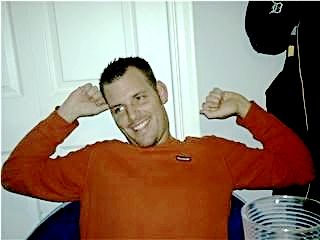 Our son Christopher Carl



Christopher has always loved cars, whether they were regular everyday cars
for getting around or hot rods and custom cars that guys would build up so
they were very fast, but he had always loved the Ford Mustangs the best of
all of them. From the time he was little he had toy cars that they called
"Hot Wheels" for the kids to pretend that they were real and as he had got
older we would go to the hot rod and custom cars shows in the nearby towns
and cities around our town and his eyes would light up and he would smile
from ear to ear every time a Ford Mustang would drive by us and then the
driver would rev up it's motor. When he was in High School he was able to
take some special automotive classes for those guys who were interested in
going into the automotive repair and painting fields for those who weren't
planning on going on to college after graduating from High School. Seemed
like Christopher had really loved these classes and excelled at them too,
he was offered an apprenticeship with one of the big automotive custom and
painting companies and a couple of years later he got a job working for the
Saleen Mustang Company where they converted stock Ford Mustangs into the
custom versions of the stock Mustangs. His work leader eventually went to
work at the General Motors Corporation at their Technical Design Center
where they do all of their proto-type designing for all of their future
designed cars and trucks for all of General Motors Corporation and when he
quickly moved up in the corporation, he called Christopher and he offered a
job to him as a custom painter for preparing the cars and trucks that were
going to be displayed at the major automotive shows around the country for
General Motors and other car companies to show off all of their new models
that were coming out for the next model year. Christopher has now moved up
at the Design Technical Center and is one of the lead painters for General
Motors Corporation now. We're very proud of him and that his qualifications,
his talents and his own hard work has been recognized and rewarded by General
Motors Corporation and especially by the Design Technical Center. Christopher
says that it isn't work when your doing what you love to do in your own life
and he does very well indeed. He hasn't given up on his favorite car though,
he purchased a used 1968 Ford Mustang GT and is in the process of completely
doing a ground up full restoration of this car to make it like factory brand
new. It will have a 390 cubic inch engine completely rebuild with a 4 speed
hi-performance transmission as well, I can't wait to get a ride in that car
myself as I'm the one who gave him the Mustang bug in the first place as I
had owned a 1966 Ford Mustang GT when I returned from Vietnam that I'd kept
up at my parents home while I was serving my last two years in the Air Force.
While down at my base in Illinois, I had also bought a used 1968 Shelby GT
Mustang and I only had it for about a month when a drunk driver had run a
red light while I was going over to St. Louis to see some of my friends at
the USO there and my 68 Mustang was totaled and although I wasn't hurt it
was devastating to have lost my pride & joy so quickly. Christopher has his
own dream car now too and he is doing a full restoration so that it'll look
and run like a brand new 1968 Mustang GT. I'm very proud of him and his own
accomplishments in his life, he's a great husband to his wife Rheanna and
a great father to their three daughters too and he is very well respected
and he has been recognized for his own work and his specialized talents as
well. What more could any father want for his son? I know that he will do
a great restoration on his own 1968 Mustang GT and I also look forward to
taking my first ride with him when his project is completed.


© Terry Sasek - Alwaysawarrior - all rights reserved.