MOODS
~MOODS~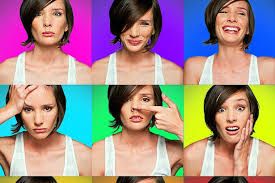 We all have moods.
There is no exception.
Good mood and bad mood
might be too simple classification.
romantic mood, loving mood
and sexy mood might sound
like shades of the same colour.
Sad, angry and explosive mood
might be moods we don't like.

One thing about mood is common
among all the moods.
Something that might trigger
one mood to end other to start.
There is no limit to triggers or
their origins and no time-limit
for the trigger to operate.

An insult would change calm mood
to aggressive, angry and defensive mood.
Soft gentle whisper of loving words
could set a romantic mood in progress
and neglect of soft loving words
could trigger sad mood that could
further trigger other moods like
Sulking, silent and even angry mood.

Moods are amazing creatures those
live in us and they also rule us.

Kris ~ Dreamweaver
www.poetrypoem.com/dreamweaver.











©2000 - 2020 - Individual Authors of the Poetry. All rights reserved by authors.
Visit My Home Page | Start Your Own Poetry Site | PoetryPoem
[ Control Panel ] [ Today's Poetry - ALL Poets ] [ Search ]