Alwaysawarrior
1,233,483 poems read
STILL MISSING MY DAD AFTER ALL THESE YEARS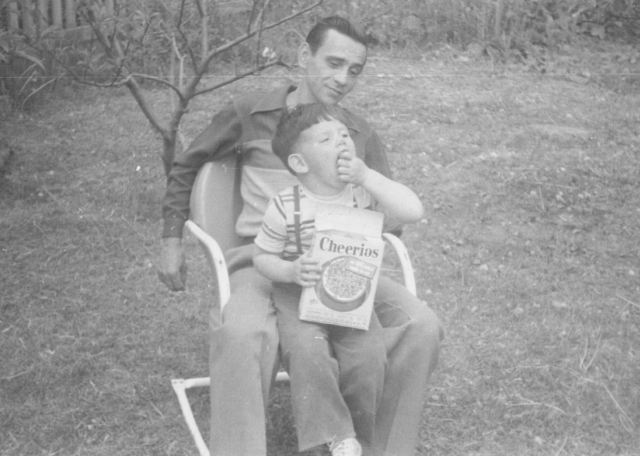 Dad and me 1952 snacking on my Cheerios.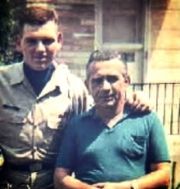 Dad and me on the fourth of July 1968, I was
home on a weekend pass from my training base.



In memory of my Dad who I loved and I miss greatly
Especially when April 24th comes around each year
My dad would have been 102 years old if he'd lived

But he had been taken from us way to early by Cancer
He had many medical issues that he had bravely faced
But he did everything he could to take care of us all

There were more good days than there were bad ones
He had never felt sorry for himself or ask why me
He got up each day determined to be a great dad

Though he couldn't always do the things he wanted
He made sure that we had what we needed in life
And to be sure no kid could have had a better dad

He had lived long enough in this world to be happy
Despite all that he had faced during the Depression
The fact that his mother had died after he was born

He never let the events in his life ever get him down
He stayed more upbeat and positive than anyone I knew
And he was one of the best role models I have ever had

After all those years of taking care of all of us kids
He helped all six of us kids to be the best we could be
And I would have done anything I could to save my dad

But Cancer is a vicious thing that cares not who you are
Or what good you did in your lifetime for those you loved
Just one day before my 42nd birthday Cancer took him away



© Terry Sasek - Alwaysawarrior - All Rights Reserved



My Dad George Sasek was Born on April 24, 1917 and he died
back on July 30, 1990, he was 73 years old and it has now
been 29 years since we had lost him to Cancer, he was a
great man who was a great father and grandfather and it's
still a fact of life that "I STILL CAN'T SAY GOODBYE".