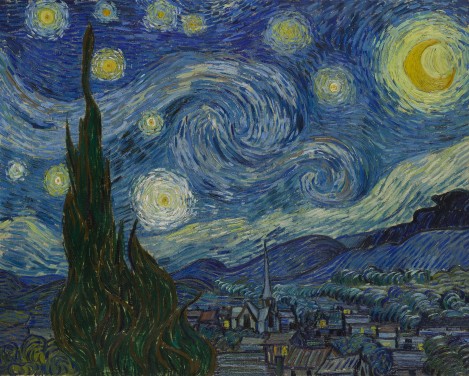 If we could see the night sky
as it truly is,

I mean, really see it,
without the white-washing
electric moons
we think we need down here,

without the chains of desire,

we would weep,
or applaud
like the river
that laps its
trembling dramas.

The night air
would taste different:
a euphoric bitterness,
a caramel sorrow
that doesn't crush us,
but releases us.

Everything ascends
under a true dark sky

till there is
nothing
but the things above:
the captive myths
that creep and stare
and all that galloping
black fury
you could never understand
the depths of.

You wear the dark,
you are the dark,
you float, you dream.
Fantasies twirl
around your head
like chiffon ribbons,

then you enter,
like royalty,
through the gates of Orion,

all pomp and adoration,
past tiarras,
past drops of centuries
frozen in light,
past smoldering,
long-ago spheres
that initiate you
into the Society of Souls

and you believe
in the luminous hunter,
you believe in his
faithful dogs and
his never-ending pursuit
of the icy Taurus,

and you watch
delicate armies
fight soft-spoken wars
in one endless shimmer

and you believe
in some sort of heaven
because it must be heaven or
a master's inner sanctum
or embers from a vast,
prehistoric fire
seeping through the roof
of our very own world
and scattering those
crackling white legends
above, beyond and within you

and making you feel
so important,

like a gold Buddha
surrounded by temple-light,
like the honored guest
of glass kings,
like a free stallion
under a shower
of hypnotic suns.

That is,
if you could see the night sky
as it truly is.





Patricia Joan Jones

To read more of my work go to: My Poetry List