WHEN JESUS CHRIST RETURNS(The Compound Word Verse Style)




~ When Jesus Christ Returns ~
( The Compound Word Verse )







glitter-graphics.com




~O~



Love, Peace, will Reign one day and how
When Jesus returns, to earth now
Anytime

He'll make new earth, and Love, will flow
And everything, will be changed I know
Anyway

The Bible says all this, not me
Read His Book, and this, you can see
Anytime

He'll change all, in blink of an eye
Vanish Hate, Evil, we'll be free
Anyway

When Christ returns, this will take place
Then Love, Peace, will Reign, with His Grace
Everywhere.







~O~






glitter-graphics.com


glitter-graphics.com



Dorian Petersen Potter
aka ladydp2000
copyright@2021






glitter-graphics.com


August.27.2021







So now faith, hope, and love abide, these three; but the greatest of these is love.
1 Corinthians 13:13 (NIV)

-'For God so loved the world, that he gave his only Son, that whoever believes in him should not perish but have eternal life.
John 3:16 (NIV)

- Rejoice in hope, be patient in tribulation, be constant in prayer
Romans 12: 12 ( NIV )

-The Lord will fight for you, and you have only to be silent.'
Exodus 14: 13 ( NIV )



-For we wrestle not against flesh and blood, but against principalities, against
powers, against the rulers of the darkness of this World, against spiritual
wickedness in the high places.
Ephesians 6:12 (NIV)

- I can do all things through Christ who strengthens me.
Philippians 4: 13 ( NIV )

-This is the message we have heard from Him and proclaim to you, that
God is Light, and in Him there is no darkness at all.
1 John: 5



-What good will it be for someone to gain the whole world, yet forfeit their soul?
Matthew 16:26 (NIV)



1. This know also, that in the last days perilous times shall come.

2. For men shall be lovers of their own selves, covetous, boasters, proud, blasphemers, disobedient to parents, unthankful, unholy.

3. Without natural affection, trucebreakers, false accusers, incontinent, fierce, despisers of those that are good.

4. Traitors, heady, high-minded, lovers of pleasures more than lovers of God.

5. Having a form of godliness, but denying the power thereof: from such turn away.



~2 Timothy 3 - 5 - King James Version (KJV) ~


-Read: Matthew 24: 1-50









- HOW TO KNOW JESUS CHRIST OUR LORD AND SAVIOR -


A salvation prayer, known by many Christians as a 'Sinners Prayer,' is a prayer one would say to repent from sin, ask God for forgiveness, confess belief in Jesus Christ, and accept him as Lord and Savior. Saying a salvation prayer is the first step in your personal relationship with God.
If you believe the Bible offers truth about the way of salvation, but you have not taken the step to become a Christian, it's as simple as praying this prayer. You can pray by yourself, using your own words. There is no special formula. Just pray from your heart to God, and he will save you. If you feel lost and don't know what to pray, here's a salvation prayer that you can follow:



Dear Lord,
I admit that I am a sinner. I have done many things that don't please you. I have lived my life for myself only. I am sorry, and I repent. I ask You to forgive me.
I believe that You died on the cross for me to save me. You did what I could not do for myself. I come to You now and ask you to take control of my life; I give it to You. From this day forward, help me to live every day for You and in a way that pleases You.
I love you, Lord, and I thank You that I will spend all eternity with You.
Amen.


If you have just prayed this prayer, congratulations!:))

You have received Christ as your Savior and have made the best decision you will ever make—one that will change your life forever!






glitter-graphics.com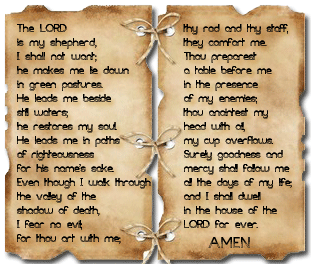 glitter-graphics.com



~Behold, children are heritage from the Lord, the fruit of the womb a reward'.
Psalm 127:3

Abortion is MURDER! Please people, Do Not Kill a Baby!!!

~There are times when all that we have left is to pray to God.~

~ ' Let Love be without dissimulation . Abhor that which is evil; cleave to that which is good. ' ~
- Romans 12:9

~ My soul glorifies the Lord and my spirit rejoices in God my Savior.
- Luke 1: 46-47 -






glitter-graphics.com



-'Kindness is a language which the deaf can hear and the blind can see.'
- Mark Twain -



~Author's Notes:


"The Compound Word Verse" is a poetry form or style invented by Margaret R.Smith.






glitter-graphics.com



- Thought Of The Day -


~ IGNORING GOD'S VOICE ~

- Hebrews 4:12-16 -



Believe it or not, many people who attend church choose to ignore God's truth because they don't like hearing sermons that convict or demand a change. But we tend to be guilty of doing the same thing when we pick and choose what to read in the Bible.

When you open God's Word, do you read only verses that encourage, comfort, or promise blessings? Are you reluctant to tackle the more difficult passages, which prick your conscience and call for obedience? Do you avoid sections that make you feel guilty about the way you are living?

If you find yourself reacting strongly to a passage of Scripture or a sermon, then you ought to take an honest look at yourself. God's Word is meant to cut into the deepest recesses of our soul and spirit. But the hope is that we then run to Jesus, our High Priest, in confession and repentance in order to receive forgiveness and cleansing.

Christ sympathizes with our weaknesses and invites us to draw near to God to receive grace and help. The convicting passage of Scripture may cause momentary discomfort, but those who listen and take their burden to Jesus find sweet relief.



By Dr. Charles F. Stanley






glitter-graphics.com



~ A NEW WORLD ~


-Eye hath not seen, nor ear heard, neither have entered into the heart of man, the things which God hath prepared for
them that love him.
—1 Corinthians 2:9-


At the close of the Bible we encounter these words, "And I saw a new heaven and a new earth; for the first heaven and the first earth were passed away." A new world is coming! Each time we pray in the Lord's Prayer, "Thy kingdom come," we should remember that that prayer will be answered. Heaven is described as a new creation in which we shall move in new bodies, possessed of new names, singing new songs, living in a new city, by a new form of government, and challenged by new prospects of eternity with social justice for all. The paradise that man lost will be regained, but it will be much more. It will not be the old one repaired, patched up, and made over. When God says, "Behold, I make all things new," the emphasis is on all things. One day we shall live in a brand-new world. Centuries ago the apostles greeted each other with the word, "Maranatha"—the Lord is coming.


By Evangelist Dr. Billy Graham






glitter-graphics.com




-Reflect & Pray -

There's no fear in love. But perfect love drives out fear, because fear has to
do with punishment. The one who fears is not made perfect in love.

-1 John 4: 18

When do you find yourself feeling pressured to believe fear is greater than love? How might your relationships with others change if you believed you don't need to be afraid?

Loving God, thank You for Your Love. Help us to trust in and follow Your Light and Love even when the way gets dark.





glitter-graphics.com


~Prayer Of The Day-

-Lord Jesus, as You sat looking over Jerusalem, You wept.
Give me the same compassion for those who have not accepted Your remedy and been BORN AGAIN.


~Today's Reflection~

-SALVATION IS FOR TODAY,SEEK THE LORD WHILE HE MAY BE FOUND.NO ONE IS PROMISED TOMORROW.


- Bless is the man who trusts in the Lord, and whose hope is the Lord.
-Jeremiah 17:7










"Nearly all men can stand adversity, but if you want to test a man's character, give him power."

- Abraham Lincoln -










-May God bring great comfort and healing to all of you who have lost a loved one, be a family member, a very dear friend, someone, to the COVID- 19.All my heartfelt prayers are also for
all my very dear friends, family members each and all, and the whole wide world, each and everybody. Wish you each and all the very best in everything n' all you do!BE STRONG N' POSITIVE! PLEASE STAY HEALTHY, WELL, AND SAFE!!! God bless you always!
Lots of Love, Hugs, and Prayers surely, Everyday, Always, from the U.S.A.! D .








Vote for this poem




| | |
| --- | --- |
| Please Comment On This Poem | |
ladydp2000