Long, black-fringed eyelashes
Beautify her dreamy eyes.
Smiles in shades of sunshine
Spread her face like summer skies.


Cocoa-colored strands of silk
Bounce across her back.
A soft, flawless complexion-
Lovliness without one lack.


Sweet, soft-spoken, seventeen-
Communicating charm.
I stand in awe and marvel
At this young lady on my arm.


What happened to the little girl
Climbing on my knee?
I see an image of her dad
And even one of me.


I knew she would be special
Right from the very start.
She'll always hold a special place
In her Grandma's heart.


So when I count my blessings,
I thank the Lord above
For sending me an angel-
An expression of His Love.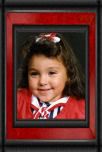 Lovingly,
(c)Doris Jacobs-Covington



"Rejoice in the Lord always,
again I say rejoice."
Philippians 4:4