Happy 10th Anniversary Doris And Ish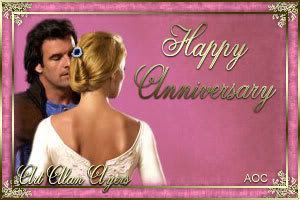 I would like to wish you the happiest of Anniversaries
with many more years to come!

On your wedding day, time almost stood still,
The world had become a much brighter place.
You finally found in each other a love that is real,
Just the sight of each other made your hearts race.




You would never be alone or cold inside anymore,
As a knight in shining armor wed his lady love.
All you could ever want was finally yours,
A long awaited treasure from the heavens above.




The love that you share makes life worthwhile,
Holding hands when things seem so hard to take.
Doing something silly just to bring about a smile,
Knowing it's a love you will never forsake.




Happy Anniversary to both of you on your special day,
You deserve all the happiness life can bring to you!


Together you walk hand in hand
Through life and all it's tribulations,
Another year has come and gone
And for that we send our congratulations.




For you are not only joined at the hand
But joined at the heart,
And with the mingling of these two
You've past the hard part.




Because with the joining of hand and heart
Everything becomes an experience shared by two,
And together may you go through life
As others seldom do.




Joined hand in hand
And heart to heart,
Going through life together
May every day be a new start.

Vote for this poem
| | |
| --- | --- |
| Please Comment On This Poem | |