Stand Up For Jesus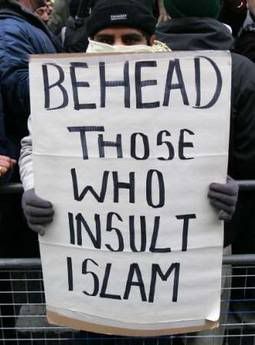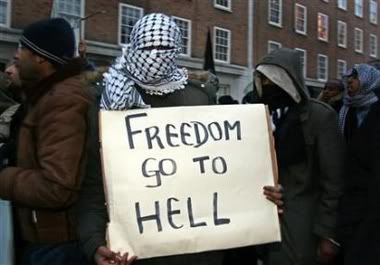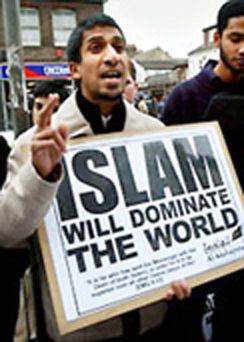 Radical Muslims marched in London
Displaying signs spewing their hate.
Threats to topple all religions...
Claim Islam as this world's fate.




Signs like "Freedom Go To Hell"
Sends righteous anger all through me!
Wounds my patriotic pride...
Boils the blood of one who's free!




They're promising a nine-one-one
To all the nations who oppose
Their prejudiced religious rules.
They promise death to all their foes!




Israel, of course, is chosen
But the USA is right behind!
We have tasted their destruction...
Been victims of their evil mind.




I'm not one to down religion
If it differs from my own.
Most are based on love and kindness
But Islam reeks of hate full blown!




What kind of God demands a ransom?
What kind of God commands a man
To be pulverized to pieces
To prove a point or take a stand?




The God I serve provides a Savior...
One who gave His life for all!
One who paid the ransom for me...
Before who angels prostrate fall!




The God all Heaven recognizes.
The God all Christians can call on.
The great I Am...the sweet Lord Jesus...
The One who sits upon God's Throne.




He's not the same God as this Allah
Because all He commands is love.
All He desires is our devotion.
All we receive comes from above.




Jihad is a manifestation
Of evil in its purest form.
If it were peaceful in its pursuit,
It couldn't do its neighbor harm.




Could our tolerance turn more traitors
To hurt us on our very shores?
Conquered by our own complacency...
Our enemies have open doors!




What can we do? What is our mission
To thwart attempts to change our lives?
Are we not Christ's living body?
Making sure that Truth survives?




So stand up! Stand up for Jesus!!
Let's fight this war with all we've got!
Greater is He who lives within us!
Come on! Let's give this our best shot!

(c)Doris Jacobs-Covington
October 10, 08



"Deliver me, O my God, out of the hand
of the wicked, out of the hand of the
unrighteous and cruel man."
Psalm 71:4



"Let God arise; let his enemies be
scattered: let them also that hate
him flee before him."
Psalm 68:1



"He that is our God is the God of
salvation..."
Psalm 68:20



"He that dwelleth in the secret
place of the most High shall abide
under the shadow of the Almighty."
Psalm 91:1



"For thou, Lord, are high above
all the earth, thou art exalted far
above all gods."
Psalm 97:9



"Greater is He that is in you than
he that is in the world."
1 John 4:4



"Whosoever believeth that Jesus is
the Christ is born of God..."
1 John 5:1

Dont' Forget Christians To Also Pray For Israel