Here In America In God We Trust

Here In America In God We Trust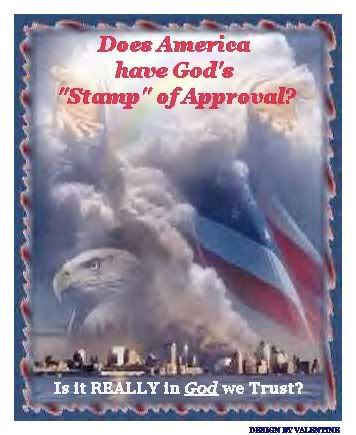 An uneasy feeling gripped us all
As we watched banking systems fall.
Worry was quick to take its toll...
Some doubting God was in control.



Is not our motto "In God We Trust?"
He still honors faith and it's a must!
We must repent of our unbelief
Before we add to our nation's grief!



Although unwanted in government,
The Spirit still goes where He is sent!
Almighty God will not be still!
He'll summon someone to do His Will!



It may not be as we expect.
There may be changes we will reject.
But, all in all, God will not change
Although His methods may seem strange.



American hearts may have to bleed
Before admitting it is God we need.
He will allow us to break His laws.
It's freedom of will with all its flaws.



Abortion... America's most awful crime!
But, as we're approaching the end of time,
We have only moments to take a stand.
Will we keep or break our God's command?



Remember, His judgment will surely come!
Why do we play deaf and act so dumb?
We ought to know what's right or wrong!
Have our consciences been seared too long?



This same sex marriage is really sick!
Does God have to hit us with a brick?
Why do we allow this ungodly thing?
We've defiled the sacred wedding ring.



While it's true we can't impose our views
And people will do just as they choose.
Still we have got to state the fact
God loves the sinner...condemns the act.



We, too, must love the ones involved
But telling a lie has not resolved
Any problems like these I have defined
Telling the truth is much more kind.



It is time we called a sin a sin!
And stopped taking all this tarnish in.
Too, we need to check our own backyard.
Throw out the things we should discard.



This country needs its Godly men
And Godly women to defend
The Bible and God's moral laws.
We've got to stand up for His cause!



If we've been saved and sanctified,
Where should our loyalties abide?
Our God will always stand by us.
For here in America...In God We Trust!

Lovingly,
(c)Doris Jacobs-Covington
October 22, 2008


"If my people, which are called by
my name, shall humble themselves,
and pray, and seek my face, and turn
from their wicked ways, then will I
hear from heaven, and will forgive
their sin, and will heal their land."
2 Chronicles 7:14

**I really struggled to write some parts
of this poem because someone really close
to my heart is involved in one of the sins
mentioned. Yet, if I am truly a messenger
of God...if I am anointed to present the
truth in poetic form...then I cannot white-
wash any of it. I must write what God puts
on my heart. I pray for guidance, I shed
tears, and I am sometimes overwhelmed at
the task set before me. It would be nice
to always write about God's goodness and
light but Jesus Christ is our judge as well
as our Savior. And if we don't warn people
about the seriousness of sin, if we don't
try to point them toward the benefits of
repentance and God's gift of salvation,
we will have to account to God for our
lack of communicating the gospel. For, yes,
we will all stand before the Judgement Seat
of Christ, for the Bible declares that judge-
ment begins at the House of God. No, those
in Christ Jesus will not be judged for sins
committed (because our sins were paid for in
full at The Cross) but I understand that our
works will be judged. So, if the words I am
inspired to write seem to be a little harsh,
please know that I, personally, am not judging
anyone for anything (that is not my purpose)
but if my words seem to be judgmental, they
are taken from the Word of God...everything
I write about can be found in the scriptures.
No matter what anyone thinks, I'm not doing
this to win a popularity contest...I am simply
being obedient to the call on my life. And, as
I stated before, my writings apply to me as well
as anyone else. I love people...but at times we
must be ready to show "tough love" in order to
do God's Will. I would like to offer a special
thank you to all those who encourage my poetic
journey, who realize my mission, and can sense
the love and concern in my heart. You all know
who you are...and I love you and pray God's
warmest blessings upon you.**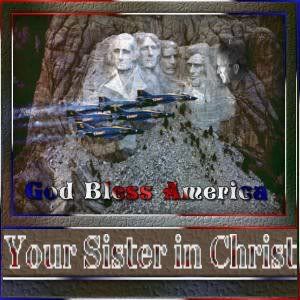 TRIPLES with EMMA