MUSIC by wings2fly2heaven (prose)
MUSIC - PROSE
Original draft written January 5, 2009
Posted January 19, 2009
Revisions January 23, 2009
Re-post September 9, 2009

Author's Note: This written prose will be transformed into a rhyming poem.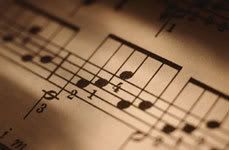 "MUSIC"

"Your motif and themes in reason to find
Are playing a melody within my mind......."

You are the SOLO, I am your ACCOMPANIMENT for in VERSES of life we'll find

our sweet REFRAIN. When TEMPOS are slow and at perfect ease, you now

hold an ADAGIO of emotional tunes that fly in the wind with the fragrance

of your flowery MUSIC. CANTABILE'S in flowing COMPOSITIONAL TONES I

plead to progress into a SUCCESSION OF CHORDS I'm waiting for. I'm confident a

spirited-piece will be improvised by you. Give me attention to satisfy my

PITCH with your perfect TONE. We are notes to be played in time and

Space, occupying the same ENHARMONIC INTERVAL. Our sounds are harmonious.

Will you forever shelter me from DISSONANCE? I cannot be incomplete

and must be resolved for the sake of HARMONY in life and love. I need a

pleasing combination of your tones to be grandly played into my heart.

I'm your audience and I'm standing here… will you be my ENCORE? I'm your

LEADING NOTE, I'm your lucky seventh of our beautiful SCALE, and my desire

to find your RESOLVE is strong. Our romantic focus shifts us from

CLASSICAL to greet with open arms in an emotional, expressive, and

imaginative way. Stop….listen to TIME SIGNATURE of my heart, for the

number of beats is a MEASURE of my adoration for you. You strike my

heart-strings producing your harmonically related PITCH of thoughts.

Your RESONANCE makes them VIBRATE even if only one STRING is plucked.

Late at night when you're thinking of me, listen closely……. for your

nocturnal dreams will penetrate reality and bring forth a beacon of light

that illuminates a path to me. So embrace my THEME! And when you're

lonely my dear, no matter if life AUGMENTS or DIMINISHES, return to this place.

Where you shall feel the wind of my wings EIGHT FULL NOTES flying above you, for

I'm your OCTAVE of desires. SERENADE me with your talent and become the

EXPRESSIVE MEANING and attitude in my life. Play me a CONCERTO with

intensity, building the notes of tension to SUSTAIN in loving pace a song of CLIMAX.

We'll keep the TEMPO AND RHYTHM, and I'll be in TUNE with your MELODY. It is

you that will make the PROGRESSION to move my chords in SUCCESSION.

TUNE your INSTRUMENTS to be the perfect TEMPERAMENT in love and we will

find a way to combine them into the perfect POLYPHONY. Our VIBRATO will keep

building a relationship between notes in existence. You and I are playing the same note

simultaneously - - - -we live in UNISON. There'll be no regrets after our music's been

played, for a REPRISE will commence and play into eternity. We'll honor our GRAND

FINALE as we play precious MUSIC between scenes and interludes of a

kinship that will last forever....x.x.



SELECTPOETRY'S CHOICE OF DAY NOVEMBER 4, 2009

PROSE/POEM TITLED: "MUSIC"

"Today's choice by Select poetry, "Music" by Kelly, is a unique poem joining two individuals through musical expression in brilliant word selection. The author has carefully and with true poets form put together this metaphoric poem in two styles on her site, in prose and rhyme.Select poetry only selects one poem a day however today we take into consideration the masterful skill that turned this romantic loving art piece from one form to the next....It also shows much time and effort on the authors part to perfect the write. This is a must read rather you select the prose or rhyming poem form, though I would suggest you take the time to read both versions of this highly outstanding piece. Don't forget to leave the author some feedback telling her how much you enjoyed the poem/prose.

Congratulations Kelly as we appreciate the wonderful time you put into bringing us a beautiful poem no matter which style one may prefer."


Vote for this poem
| | |
| --- | --- |
| Please Comment On This Poem | |
wings2fly2heaven