MUSIC (Rhyming Version)
MUSIC – RHYMING VERSION
Original draft (prose) written January 5, 2009
Posted January 19, 2009 Revisions January 23, 2009
Re-post September 9, 2009
Rhyming Version posted September 9, 2009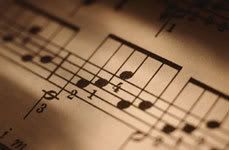 "Paths with real life verses wrote in cobblestone, not made for perfect, nor for ease, but no more wrote alone…."
Quote- "Muzak"

~ MUSIC ~

Your motif and themes in reason to find

Are playing a MELODY within my mind

HARMONIC sounds ebony and ivory keys

Sends flowery MUSIC drifting in breeze

Natural talent a SERENADE will become

Meaningful expressions for fingers to strum

For we play our NOTES in time and space

ENHARMONIC INTERVALS for our same base

Our verses in life we'll sing a REFRAIN

'Your angel's' now here to ease your pain

When TEMPOS are slow at perfect ease

We hold our ADAGIO in emotional seas

You're a SOLO, ACCOMPANIMENT I'll be

Together we'll create music so free

Your SPIRITED PIECE you'll soon improvise

Varying SONGS to match my changing eyes

CANTABILES in flowing COMPOSITIONS I plead

Progress CHORDS succession is what we need

My PITCH to satisfy with your perfect TONE

MUSICAL poetry says we're never alone

Pleasing combinations played for my heart

A friendship unspoiled right from the start

Save me from DISSONANCE I must be complete

CLASSICAL shift to romantic focus we do greet

Listen to the TIME SIGNATURE beating in my heart

Keeping MEASURES of adoration we both impart

I'm your lucky SEVENTH of your LEADING NOTE,

To onward SCALES in every song you wrote

My desire to find your resolve is strong

"Big hugs and x.x." while you're STRUMMING along

For HARMONIC PITCH my heart-strings shall strike

Seeking life's true-love with dreams alike

A single string plucked my RESONANCE vibrates

In careful convictions my mind now contemplates

So when night comes and you're thinking of me

Close your eyes let dreams become reality

Bring forth a beacon of resonating light

And keep playing your MUSIC all through the night

Then embrace my theme when you're lonely my dear

For I'll be SINGING along with your MUSIC I hear

And when life AUGMENS or DIMINISHES we shall return

To this MUSICAL place where we nurture and learn

To build intensity a CONCERTO play me

CRESCENDOS encourage wishes of wanting to be

Among MUSIC'S pace our tensions SUSTAIN

Your song of CLIMAX brings much more to gain

In CADENCE and RIFFS perfection you'll keep

To soothe our feelings when we have to weep

And it's you that'll make timely progression

To move my CHORDS in loving SUCCESSION

So TUNE your INSTRUMENTS a TEMPERAMENT in love

Feel the wind of my wings EIGHT FULL NOTES above

For I'm your OCTAVE 'missing you loads' in time

For the perfect POLYPHONY we'll soon combine

Let our VIBRATO keep building a relationship between

Same existing NOTES playing simultaneously

And there'll be no regrets after our MUSIC'S been played

For a REPRISE will commence after the sounds all fade

Please honor our GRAND FINALE playing between

Scenes and INTERLUDES two separate lives lean

As the EBB and FLOW in time our kinship stays strong

Forever aligning hearts taking each other along

I'm your grateful audience still waiting for more

A standing ovation please be my ENCORE........x.x.

Vote for this poem
| | |
| --- | --- |
| Please Comment On This Poem | |
wings2fly2heaven