Poetryseeds
Debut book available now....
LOVE IS LIKE SWIMMING IN CUSTARD
Please contact me at guzvic_99@hotmail.com
Please visit my other site
www.PoetryPoem.com/inimitable
**********************************************
Hen's Nest - JOHN CLARE
Among the orchard weeds, from every search,
Snugly and sure, the old hen's nest is made,
Who cackles every morning from her perch
To tell the servant girl new eggs are laid;
Who lays her washing by, and far and near
Goes seeking all about from day to day,
And stung with nettles tramples everywhere;
But still the cackling pullet lays away.
The boy on Sundays goes the stack to pull
In hopes to find her there, but naught is seen,
And takes his hat and thinks to find it full,
She's laid so long so many might have been.
But naught is found and all is given o'er
Till the young brood come chirping to the door.
John Clare.....1793-1864
>>>>>>>>>>>>>>>>>>>>>>>>
All nature has a feeling.
JOHN CLARE.....1793-1864
All nature has a feeling: woods, fields, brooks
Are life eternal: and in silence they
Speak happiness beyond the reach of books;
There's nothing mortal in them; their decay
Is the green life of change; to pass away
And come again in blooms revivified.
Its birth was heaven, eternal it its stay,
And with the sun and moon shall still abide
Beneath their day and night and heaven wide. >>>>>>>>>>>>>>>>>read below>>

GROWING OLD
MATTHEW ARNOLD.....1822-1888
What is it to grow old?
Is it to lose the glory of the form,
The lustre of the eye?
Is it for beauty to forego her wreath? >>>>>>>>>>>>>>>>>read below>>
WILLIAM SHAKESPEARE.....1564-1616
To be, or not to be: that is the question:
??????????????????????????????????
(from Hamlet 3/1) >>>>>>>>>>>>>>>>>read below>>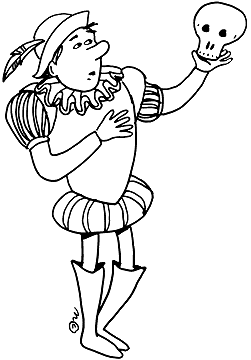 Title: MeVersesTheWorld
Written by : Edwin – poetry2231
She writes with pomp and cirumstance
Enjoy my reads as they romance
The man in me who knows not her
Except in words in me she stirs
Boat lady, queen of the nile
All should stop by her site awhile
Enjoy you will, her words engage
Reader in you, not turn the page
Simple, complex, story teller
Future read, by fortune teller
But tell I will of a fine poet
Meversestheworld for those who don't know it
Her writings appear to draw one near
Closer to screen but cold I fear
Stuck inside my monitor
Warm these thoughts that lay in her
Poetic friend not foe I'll say
Charming lady, her words will stay
With those that stop by just to read
Dance you will, just follow her lead
My simple poem for a very talented writer
Thanks for the beautiful thoughts on your
site.... The most beautiful words I've ever
read... Maria, Maria, Maria, Maria
copyright ©2000-2006 by the author.
All rights reserved by author
Many thanks Eddie xxxxx