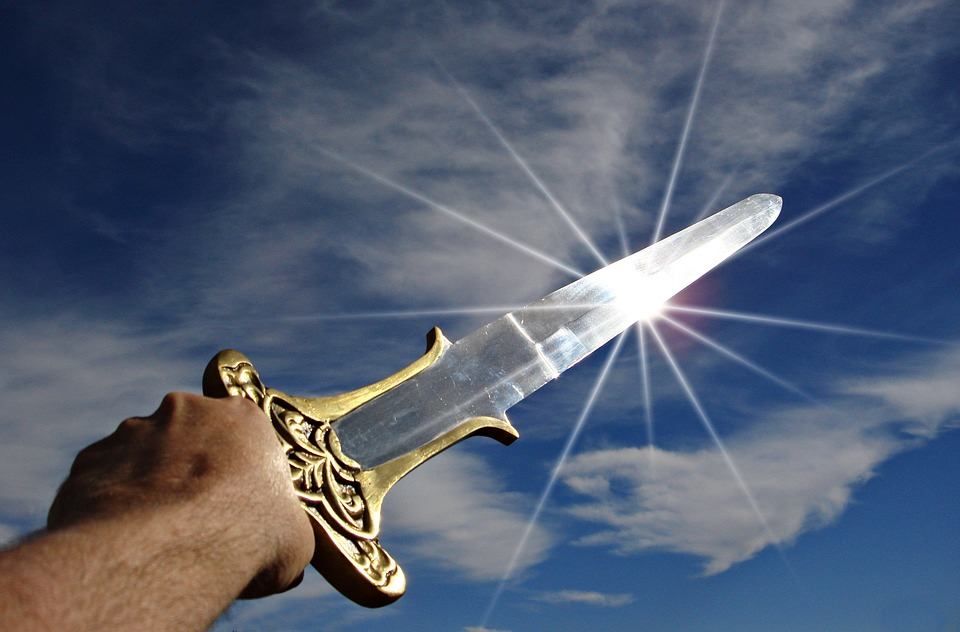 (A Notice To The Devil)
I Am Armed and Dangerous

You may think you're big and bad
As you roar around my house!
But, Devil, you are not a lion!
And I am surely not a mouse!


No, you will not touch my youngest!
Or my oldest son again!
And you dare not touch my daughters!
You won't lure them into sin!


Yes, I'm putting you on notice
As the Lord has bid me do.
For I am armed and dangerous
And I have a Word for you...


Greater is the One within me!
I have overcome the world...
Yes, the flesh and you, too, Devil!
I'm an armed and dangerous girl!


Armed with the mighty Word of God...
O, a sharp and powerful sword!
Able to cut out any thought
That does not serve to please my Lord.


Your temptations roll right off my back
I'm not attracted in the least...
For nothing you could offer me
Could satisfy my peace.


Yes, I am sold out to Jesus...
He has grabbed me from your clutch!
He paid a price in blood for me
And I love Him oh, so much!


Yes, I realize God's testing me
And He allows you to perform.
You've put put a lot of hurt on me
But, devil, I'm still strong!


So you simply must stop stalking me...
You have to let go of my arm!
For I am armed and dangerous
And I still can do you harm!

Doris Jacobs-Covington
Feb, 10, 2017
Finished March 3, 2017
And got it all put together
on March 8, 2017...
It really has been a battle!

~~Dedicated to Janet and Mouse~~
(Whom are always a source of encouragement
to me)

1 John 4:4
Ye are of God, little children, and have overcome them:
because greater is he that is in you, than he that
is in the world.


Hebrews 4:12
For the word of God is quick, and powerful
and sharper than any two edged sword,
piercing even to the dividing asunder of soul
and spirit, and of the joints and marrow, and is
a discerner of the thoughts and intents of the heart.

Acts 14:22
"through many tribulations we must enter the kingdom of God"

2nd Corinthians 4:8-9
"We are afflicted in every way, but not crushed; perplexed,
but not driven to despair; persecuted, but not forsaken;
struck down, but not destroyed.

2nd Corithians 1:3-4
"Blessed be God, even the Father of our Lord Jesus
Christ, the Father of mercies and the God of all comfort
who comforts us in all our affliction, so that we may be able
to comfort those who are in any affliction, with the comfort
with which we ourselves are comforted by God."

2nd Corinthians 4:17-18
This light momentary affliction is preparing for us an eternal
weight of glory beyond all comparison, as we look not to the things
that are seen but to the things that are unseen. For the things
that are seen are transient, but the things that are unseen are eternal.