`TERRORIST OSAMA BIN LADEN` KILLED IN FIREFIGHT BY US NAVY SEALS` (revised)
`Please note; Authors of Stars & Stripes are currently working with site designers
in up-dating your Veteran's Home Page..all suggestions are welcomed!
`


'STARS AND STRIPES REPORT`
02/MAY/2011
TO ALL VETERANS AND FAMILIES OF `AMERICA`

"Foremost And Above All ~ "We Proudly Salute `The Flag Of The USA`
and All It Stands For!"

`STARS&STRIPES SALUTES `OLD GLORY`
*`FLAG OF THE UNITED STATES OF AMERICA!*

*********************
`IN GOD WE TRUST`!

`Today,and Every day, Stars&Stripes` Salutes `Old Glory`
`Flag Of The United States Of America`
In Honor Of All Veterans ~ Who At One Time
Have Given Dedicated Service To Our Country',
and To The Brave Who Have Given Their Lives
In The Fight For World Freedom!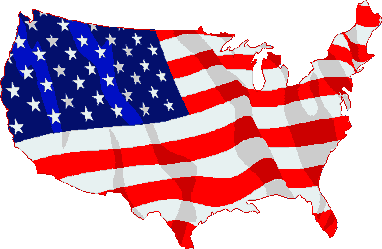 ~*~`OLD GLORY`~*~


*`I AM THE FLAG`*
*`OF THE UNITED STATES OF AMERICA`*

`MY NAME IS ~`OLD GLORY`~

`I fly atop the world's tallest buildings.
`I stand watch in America's halls of justice.
`I fly majestically over institutions of learning.
`I stand guard with power in the world.

`Look up and see me.

*I stand for peace, honor, truth and justice.
*I stand for freedom.
*I am confident.
*I am arrogant.
*I am proud.

*When I am flown with my fellow banners,
*My head is a little higher,
*My colors a little truer.
*I bow to no one!
*I am recognized all over the world.
*I am worshiped - I am saluted.
*I am loved - I am revered.
*I am respected - and I am feared.
*I have fought in every battle of every war for more then 200 years.

*I was flown at Valley Forge, Gettysburg, Shiloh and Appomattox.

*I was there at San Juan Hill, the trenches of France,
in the Argonne Forest, Anzio, Rome and the beaches of Normandy.
Guam, Okinawa, Korea and KheSan, Saigon, Vietnam know me.

*I'm presently in the mountains of Afganistan and the hot AND
dusty deserts of Iraq and wherever freedom is needed.

*I led my troops, I was dirty, battle worn and tired,
But my soldiers cheered me and I was proud.

*I have been burned, torn and trampled on the streets
of countries I have helped set free.

*It does not hurt for I am invincible.

*I have been soiled upon, burned, torn and trampled
in the streets of my country.
And when it's done by those Whom I've served in battle
- it hurts.

*But I shall overcome - for I am strong.

*I have slipped the bonds of Earth and stood watch over the
uncharted frontiers of space from my vantage point on the moon.

*I have borne silent witness to all of America's finest hours.
But my finest hours are yet to come.

*When I am torn into strips and used as bandages for my wounded
comrades on the battlefield,
*When I am flown at half-mast to honor my soldier,
Or when I lie in the trembling arms of a grieving parent at the grave
of their fallen son or daughter,
~*~`I AM PROUD!`~*~
~`Author Unknown`~

******************************************

'Stars & Stripes Proudly Salutes and "Congratulates"
With Deep Appreciation, `US NAVY SEALS` and all Directives
who were directly or inadvertently involved in the
'Massive Intelligence Hunt to secure or eliminate
the existence of our Most Wanted Long Awaited Capture
of Terrorist Leader Osama Bin Laden`

Reports By:
By BRIAN ROSS (@brianross) , JAKE TAPPER (@jaketapper) ,
RICHARD ESPOSITO and NICK SCHIFRIN (@nickschifrin)
May 2, 2011

Osama Bin Laden was killed not by a drone strike,
but up close during a firefight with U.S. troops Sunday.
He was not living in a cave when he died, but in a million-dollar mansion
with twelve-foot walls less than 100 miles from the Pakistani capital.
The U.S. had been monitoring the compound in Abbottabad for months after
receiving a tip in August that Bin Laden might be seeking shelter there.
He had long been said to be in the mountainous region along the Afghanistan,
Pakistan border, hiding in a cave as the U.S. sought to kill him with
drone strikes from above. Instead, he was in a house
eight times larger than its neighbors, with walls more than 12 feet tall
and valued at $1 million. The house had no phone or television
and the residents burned their trash.
The house had high windows and few points of access, and U.S. officials
concluded it had been built to hide someone.
According to U.S. officials, two U.S. helicopters flew in low from Afghanistan
and swept into the compound late Sunday night Pakistan time,
or Sunday afternoon Washington time.
Twenty to 25 U.S. Navy SEALs under the command of
the Joint Special Operations Command
in cooperation with the CIA stormed the compound and engaged
Bin Laden and his men in a firefight, and killed Bin Laden and all those with him.

AP Photo
This April 1998 photo shows AL Qaeda leader Osama bin Laden in Afghanistan.
Bin Laden's Dead: Top Secret Operation Watch Video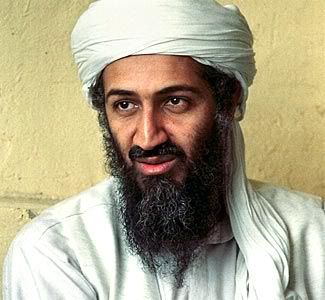 Osama Bin Laden Killed Near Islamabad Watch Video


The Navy Seals Who Killed Bin Laden (Watch Video)

Two Bin Laden couriers were killed, as was one of Osama Bin Laden's sons
and a woman reportedly used as a shield by one of the men.
Other women and children were present in the compound, according to Pakistani
officials,but were not harmed. U.S. officials said that Bin Laden himself
fired his weapon during the fight, and that he was asked to surrender but did not.
One of the U.S. helicopters, a CH47 Chinook, was damaged but not destroyed
during the operation, and U.S. forces elected to destroy it themselves with explosives.
The operation took 40 minutes, much of it spent searching the residence for intelligence.
The Americans took Bin Laden's body into custody after the firefight,
taking it back to Afghanistan by helicopter, and confirmed his identity.
A U.S. official said he was buried at sea in accordance with Islamic practice.
According to Pakistani officials, the operation was a joint U.S.-Pakistani operation,
but U.S. officials said only U.S. personnel were involved in the raid.

"The United States has conducted an operation that has killed Osama Bin Laden,
the leader of Al Qaeda and a terrorist who's responsible for the deaths
of thousands of innocent men, women and children," said President Obama Sunday night
in an address to the nation.
"A small team of Americans carried out with the operation
with extraordinary courage and capability.
After a firefight, they killed Osama Bin Laden, and took custody of his body."

Abbottabad is a city of 90,000 in the Orash Valley, north of Islamabad,
the Pakistani capital, and east of Peshawar.
It's the home of the Pakistani Military Academy and a major highway,
and is 90 miles by road from Islamabad and 40 miles by air.


********************************

`GOD BLESS AMERICA!`
`In God We Must Trust`

©2011
02/MAY/11
Stars&Stripes
Forever May It Fly!












`TERRORIST OSAMA BIN LADEN` KILLED IN FIREFIGHT BY US NAVY SEALS` (revised)