Alwaysawarrior
1,309,374 poems read
THE GREATEST GIFT GOD EVER GAVE TO ME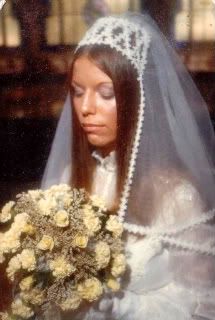 She was such a stunning beauty this woman
Could I dare have the nerve to approach her
She'd never give me a second look if I did

Honorably Discharged from the U.S. Air Force
I was home from war I was afraid of no one
Yet here was this vision now before my eyes

I was afraid to approach this great beauty
If I walked over would she just walk away
Leaving me standing there alone like a fool

With so many people standing nearby watching
What could I say that would spark her interest
My God man you were so damn brave in the war

Just how damn hard can it be to say hello to her?
So I decided to boldly go over to her and say hi!
To my absolute amazement she smiled back at me

I told her my name and asked what her name was
Then quickly I thought that I must be dreaming
There was no way I'd thought she'd talk to me

She had blue eyes and beautiful long blond hair
She was so stunning an absolutely beautiful lady
She worked with my buddy's wife at the hospital

We sat and we talked for hours about everything
She hadn't planned on coming to the party at all
Thinking she would end up sitting alone once more

Most thought her unapproachable so they'd never try
Guys thought she must be one of those stuck up types
They'd never tried to see her for who she really was

She said she had asked God to help her meet someone
That he would help guide her to the man of her dreams
She said when she had looked up I was approaching her

She told me years later that she knew I was the one
God had planned for us to meet that night she said
Smiling at back at her I said that I had prayed too




© Terry Sasek - Alwaysawarrior - all rights reserved.




We were married one year later, we celebrated our own 43rd wedding
anniversary this past September and I have always said that she has
been and she always will be the love of my life. My words here could
never fully describe the love or my feelings for this most beautiful
angel who shares my life that God had arranged for us to meet totally
by chance at a party that my friend and his wife were then having to
celebrate their having bought a new house. She worked at one of our
local hospitals with my friend's wife and had stopped in after her
shift was over at the hospital. I was just getting ready to leave as
she and some other nurses came in and I suddenly decided to change
my mind about leaving the party. She's this angel sent from heaven
above and God had arranged for us to meet on that night, she came
into my life as a blessing and she would indeed later become my wife.
We have been blessed to have two beautiful and extremely talented
children who are grown now and have their own families, they have
made both of us extremely proud of them and their accomplishments
in life. My wife is a most caring, compassionate and lovely angel
who I had been guided to meet that night by GOD and she'd help to
save me from the demons tormenting me since I came home from South
Vietnam and the nightmares that I was suffering from in my life.
She helped me to renew my faith again in God and in mankind, which
was something I had almost lost while I'd been serving during the
Vietnam War. She was a gift from God above and my own love for her
still grows deeper each & everyday but it will never be as much as
it will be on the next day and the next day for the rest of my life.
These past 44 years have flown by rather quickly, but she'd helped
to make me a whole person once again and she has made me one of the
happiest men on this Earth and hopefully God will grant us both many
more years together to celebrate this union made in Heaven.


SHE'S THE GREATEST GIFT GOD EVER GAVE ME!!!!!!!!!!