`HOW TO PRAY THE ROSARY/OUR LADY OF FATIMA!


How to recite the Holy Rosary
1. SAY THESE PRAYERS…
MAKE THE SIGN OF THE CROSS BEFORE STARTING:
IN THE NAME of the Father, and of the Son,
and of the Holy Spirit. Amen.
(As yoU say this, with your right hand
touch your forehead when you say Father,
touch your breastbone when you say Son,
touch your left shoulder when you say Holy,
and touch your right shoulder when you say Spirit.)

I BELIEVE IN GOD, the Father almighty,
Creator of Heaven and earth.
And in Jesus Christ, His only Son, our Lord,
Who was conceived by the Holy Spirit,
born of the Virgin Mary,
suffered under Pontius Pilate;
was crucified, died, and was buried.
He descended into Hell.
The third day He rose again from the dead.
He ascended into Heaven,
and sits at the right hand of God,
the Father almighty.
He shall come again to judge
the living and the dead.

I believe in the Holy Spirit,
the holy Catholic Church,
the communion of saints,
the forgiveness of sins,
the resurrection of the body,
and life everlasting. Amen.

OUR FATHER...
Our Father, Who art in Heaven,
hallowed be Thy Name.
Thy kingdom come, Thy will be done
on earth as it is in Heaven.
Give us this day our daily bread,
and forgive us our trespasses,
as we forgive those who trespass against us.
And lead us not into temptation,
but deliver us from evil. `Amen!
===================
HAIL MARY...
Hail Mary, full of grace,
the Lord is with thee.
Blessed art thou among women,
and blessed is the fruit of thy womb, Jesus.
Holy Mary, Mother of God, pray for us sinners,
now and at the hour of our death. `Amen!
==================
GLORY BE...
Glory to the Father,
and to the Son,
and to the Holy Spirit.
As it was in the beginning is now,
and ever shall be,
world without end. `Amen!
==================
O MY JESUS, forgive us our sins,
save us from the fires of Hell;
lead all souls to Heaven,
especially those in most need
of Thy mercy. `Amen!
==================
HAIL HOLY QUEEN...
Hail Holy Queen, Mother of mercy;
our life, our sweetness, and our hope.
To thee do we cry,
poor banished children of Eve.
To thee do we send up our sighs,
mourning and weeping
in this vale of tears.
Turn, then, most gracious advocate,
thine eyes of mercy toward us.
And after this, our exile,
show unto us the blessed fruit
of thy womb, Jesus.
O clement, O loving, O sweet Virgin Mary.
Pray for us, O holy Mother of God,
that we may be made worthy
of the promises of Christ. `Amen!
=====================
O GOD, WHOSE only-begotten Son
by His life, death and resurrection,
has purchased for us
the rewards of eternal life;
grant, we beseech Thee,
that by meditating upon these mysteries
of the Most Holy Rosary
of the Blessed Virgin Mary,
we may imitate what they contain
and obtain what they promise,
through the same Christ our Lord.`Amen!
===================
ANNOUNCE each mystery by saying
something like,
"The third Joyful Mystery
is the Birth of Our Lord."
This is required only when
saying the Rosary in a group.

2. IN THIS ORDER…
INTRODUCTION
1. IN THE NAME…
2. I BELIEVE IN GOD…
3. OUR FATHER…
4. HAIL MARY…
5. HAIL MARY…
6. HAIL MARY…
7. GLORY BE…
8. O MY JESUS…
THE FIRST DECADE
9. ANNOUNCE…
10. OUR FATHER…
11. HAIL MARY…
12. HAIL MARY…
13. HAIL MARY…
14. HAIL MARY…
15. HAIL MARY…
16. HAIL MARY…
17. HAIL MARY…
18. HAIL MARY…
19. HAIL MARY…
20. HAIL MARY…
21. GLORY BE…
22. O MY JESUS…
THE SECOND DECADE
23. ANNOUNCE…
24. OUR FATHER…
25. HAIL MARY…
26. HAIL MARY…
27. HAIL MARY…
28. HAIL MARY…
29. HAIL MARY…
30. HAIL MARY…
31. HAIL MARY…
32. HAIL MARY…
33. HAIL MARY…
34. HAIL MARY…
35. GLORY BE…
36. O MY JESUS…
THE THIRD DECADE
37. ANNOUNCE…
38. OUR FATHER…
39. HAIL MARY…
40. HAIL MARY…
41. HAIL MARY…
42. HAIL MARY…
43. HAIL MARY…
44. HAIL MARY…
45. HAIL MARY…
46. HAIL MARY…
47. HAIL MARY…
48. HAIL MARY…
49. GLORY BE…
50. O MY JESUS…
THE FOURTH DECADE
51. ANNOUNCE…
52. OUR FATHER…
53. HAIL MARY…
54. HAIL MARY…
55. HAIL MARY…
56. HAIL MARY…
57. HAIL MARY…
58. HAIL MARY…
59. HAIL MARY…
60. HAIL MARY…
61. HAIL MARY…
62. HAIL MARY…
63. GLORY BE…
64. O MY JESUS…
THE FIFTH DECADE
65. ANNOUNCE…
66. OUR FATHER…
67. HAIL MARY…
68. HAIL MARY…
69. HAIL MARY…
70. HAIL MARY…
71. HAIL MARY…
72. HAIL MARY…
73. HAIL MARY…
74. HAIL MARY…
75. HAIL MARY…
76. HAIL MARY…
77. GLORY BE…
78. O MY JESUS…
CONCLUSION
79. HAIL HOLY QUEEN…
80. O GOD, WHOSE…
81. IN THE NAME…

3. WHILE TOUCHING THESE BEADS TO
KEEP TRACK OF YOUR PROGRESS…

4. AND SILENTLY MEDITATING ON THESE "MYSTERIES",
OR EVENTS FROM THE LIVES OF JESUS AND MARY…

On Monday and Saturday...
meditate on the "Joyful Mysteries"
First Decade (Steps 9-22):

The Annunciation of Gabriel to Mary (Luke 1:26-38)
Second Decade (Steps 23-36):

The Visitation of Mary to Elizabeth (Luke 1:39-56)
Third Decade (Steps 37-50):

The Birth of Our Lord (Luke 2:1-21)
Fourth Decade (Steps 51-64):

The Presentation of Our Lord (Luke 2:22-38)
Fifth Decade (Steps 65-78):

The Finding of Our Lord in the Temple (Luke 2:41-52)
=====
On Thursday...
meditate on the "Luminous Mysteries"
First Decade: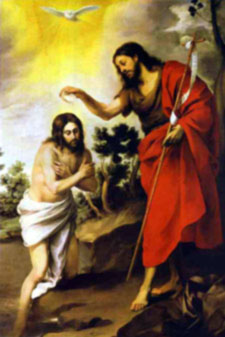 The Baptism of Our Lord in the River Jordan (Matthew 3:13-16)
Second Decade: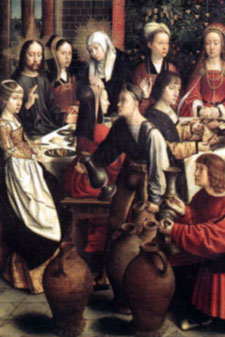 The Wedding at Cana, when Christ manifested Himself (Jn 2:1-11)
Third Decade: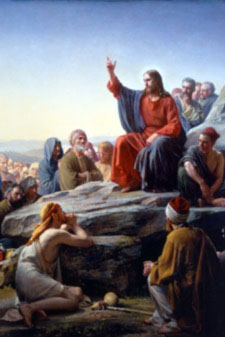 The Proclamation of the Kingdom of God (Mark 1:14-15)
Fourth Decade: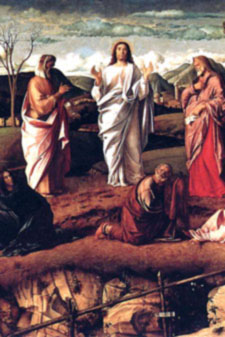 The Transfiguration of Our Lord (Matthew 17:1-8)
Fifth Decade: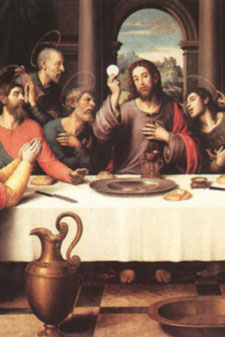 The Last Supper, when Our Lord gave us the Holy Eucharist (Mt 26)

Link to:
THE LUMINOUS MYSTERIES OF LIGHT`

=====
On Tuesday and Friday,
meditate on the "Sorrowful Mysteries"...
First Decade:

The Agony of Our Lord in the Garden (Matthew 26:36-56)
Second Decade:

Our Lord is Scourged at the Pillar (Matthew 27:26)
Third Decade:

Our Lord is Crowned with Thorns (Matthew 27:27-31)
Fourth Decade:

Our Lord Carries the Cross to Calvary (Matthew 27:32)
Fifth Decade:

The Crucifixion of Our Lord (Matthew 27:33-56)
=====
On Wednesday and Sunday...
meditate on the "Glorious Mysteries"

First Decade:

The Glorious Resurrection of Our Lord (John 20:1-29)
Second Decade:

The Ascension of Our Lord (Luke 24:36-53)
Third Decade:

The Descent of the Holy Spirit at Pentecost (Acts 2:1-41)
Fourth Decade:

The Assumption of Mary into Heaven
Fifth Decade:

The Coronation of Mary as Queen of Heaven and Earth

==================================================================
`Link to:
'THE HOLY ROSARY IN PICTURES'




*******
*************************************************

1. Portuguese
-- (the Romance language spoken in Portugal and Brazil)
--------------------------------------------------------------------------------

`OUR LADY OF FATIMA OF PORTUGAL!
`Mary, The Mother Of Jesus, Appeared In A Vision,
To Three Children of Portugal, Requesting Praying The Rosary,
To Attain World Peace and The Conversion Of Russia!
***(See Movie Video Below)***

======
How To Pray The Rosary In Portuguese
--------------------------------------------------------------------------------
Sign of the Cross
Em Nome do Pai e do Filho e do Espírito Santo. Amen.

Apostles Creed
Creio em Deus Pai todo-poderoso, criador do Céu e da Terra. E em Jesus Cristo, Seu único Filho, Nosso Senhor, que foi concebido pelo poder do Espírito Santo; nasceu da Virgem Maria; padeceu sob Pôncio Pilatos, foi crucificado, morto e sepultado; desceu à mansão dos mortos; ressuscitou ao terceiro dia; subiu aos céus; está sentado à direita de Deus Pai todo-poderoso, de onde há-de vir a julgar os vivos e os mortos. Creio no Espírito Santo, na Santa Igreja Católica, na cumunhão dos santos, na remissão dos pecados, na ressurreição da carne, na vida eterna. Amen.

Our Father
Pai-Nosso que estais no Céu; santificado seja o Vosso Nome; venha a nós o Vosso reino; seja feita a Vosso vontade assim na Terra como no Céu. O pão nosso de cada dia nos dai hoje; perdoai-nos as nossas ofensas, assim como nós perdoamos a quem nos tem ofendido; e não nos deixeis cair em tentação; mas livrai-nos do mal. Amen.

Hail Mary
Ave-Maria, cheia de graça, o Senhor é convosco, bendita sois vós entre as mulheres a bendito é o fruto do vosso ventre, Jesus. Santa Maria, Mãe de Deus, rogai por nós, pecadores, agora e na hora da nossa morte. Amen.

Glory Be
Glória ao Pai e ao Filho e ao Espírito Santo; como era no princípio, agora e sempre. Amen.

Oh My Jesus
Ó meu bom Jesus perdoai e livrai - nos do fogo do inferno, levai as almas todas para o céu e socorrei as que mais precisarem de vossa infinita misericordia. Amen.

Hail Holy Queen
Salve-Rainha, mãe de miericórdia, vida, doçura e esperança nossa, salve. A vós bradamos, os degredados filhos de Eva; a vós suspiramos, gemendo e chorando neste vale de lágrimas. Eia, pois, advogada nossa, esses vossos olhos misericordiosos a nós volvei. E depois deste desterro nos mostrai Jesus, bendito fruto do vosso ventre. Ó clemente, ó piedosa, ó doce Virgem. Amen.

Final Prayer
Divino Jesus, nós Vos oferecemos este terço que vamos rezar, meditando nos mistérios da nossa Redenção. Concedei-nos, por intercessão da Virgem Maria, Mãe de Deus e nossa Mãe, as virtudes que nos são necessárias para bem rezá-lo e a graça de ganharmos as indulgências desta santa devoção. Amen.
--------------------------------------------------------------------------------
da alegria (joyful)
da luz (light)
da dor (sorrowful)
da gloria (glorious)

A Anunciação Do Arcanjo São Gabriel Á Nossa Senhora.
A Visita De Nossa Senhora A Sua Prima Santa Isabel.
O Nascimento De Jesus Em Belém.
A Apresentação Do Menino Jesus No Templo.
Encontro De Jesus No Templo Entre Os Doutores Da Lei.
seu Baptismo no Jordão.
sua auto-revelação nas bodas de Caná.
seu anúncio do Reino de Deus com o convite à conversão.
sua Transfiguração.
instituição da Eucaristia.
Agonia De Jesus No Horto Das Oliveiras.
A Flagelação De Jesus Atado A Coluna.
A Coroação De Espinhos De Jesus.
A Carregando a Cruz.
A Morte De Jesus.
A Ressureição De Nosso Senhor Jesus Cristo.
A Ascensão Admirável De Jesus Cristo Ao Céu.
A Vinda Do Espírito Santo.
A Assunção De Nossa Senhora Ao Céu.
A Coroação De Nossa Senhora
AMEN!
(((*+*)))
'Dedicated to `Our Beloved Mother and Father`'
for devoting their lives to Our Blessed Virgin Mary!
(((*+*)))
~*~♥~*~
CopyRights Reserved*2008*~

*©*Jan*2013*' Revised Excerpts '....
~*Never Ending Circle Of Love Manuscripts' *~
a.k.a....angelic`heavenly`star...



~*~*********************************************~*~