~*`+`*~ "OUR LADY OF GRACE"~*`+`*~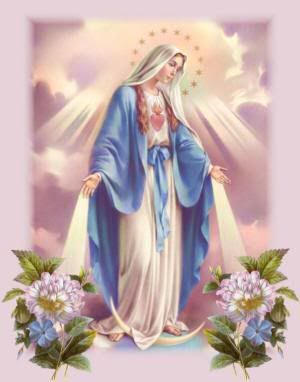 "OUR LADY OF GRACE" {`PRAYER FOR POET DENNIS/POEM`223}With `Happy Birthday Wishes`
~*`+`*~"OUR LADY OF GRACE"~*`+`*~



The Bible teaches us that we are to bear one another's burdens.
We can do this most effectively as we bring these burdens
to the Lord in prayer.
"Please take a moment to read this prayer
for the intentions of one of our `Veteran Poets` and very special friend
`Poet Dennis`Poen223`, that he may be guarded by
Our Holy Mother, 0f Jesus, in attaining quick recovery from illness,
and that he may be blessed with protection of God's Divine Love and Peace
in his daily life!

~Thank-You!~Janie~
a.k.a.`MJB`
God's Blessings to all!

Hail, Holy Queen
A prayer From The Catholic (Divine Liturgy)

Hail, holy Queen, Mother of Mercy!
Our life, our sweetness, and our hope!
To thee do we cry, poor banished
children of Eve, to thee do we send
up our sighs, mourning and weeping
in this valley, of tears.
Turn, then, most gracious advocate,
thine eyes of mercy toward us; and
after this our exile show unto us the
blessed fruit of thy womb Jesus;
O clement, O loving, O sweet virgin Mary.

Pray for us, O holy Mother of God

That we may be made worthy of the
promises of Christ.




©*2011*
`Love & Aloha Hugs To You My Friend.
Hurry And Get Well Soon!
Also Would Like To Wish You
`A Very Happy And Blessed Birthday`
May The Good Lord Bless You With Many More
That Will Be Pain~Free,
`Amen!`
Your Forever Friend, MJ
Janie/mjfb1954`

author's note *2013*
Dennis Is No Longer a Poet Here At PP..
but still a forever friend to all of us!

~ ~ ~ =========+========~ ~ ~

`MY PRAYER FOR YOU`
Dear Heavenly Father, I Thank You
For Abundantly Blessing Me
With Special Loved Ones And Friends
Throughout My Lifetime,
Thank You For Being So Gracious To Me
In Taking Care Of My Every Need.
I Come To You In Prayer Asking You
To Bless All Who Are In Pain
I Send Up This Prayer To You
Our Heavenly Father
Please Comfort All Who Are In Physical Pain
And Sufferings Of Sorrow
According To Thy Will,
Please Let Them Feel Your Presence.
By Instilling In Their Hearts
That They Are Never Ever Really Alone.
I Have Complete Faith And Trust In You Dear Jesus,
Please Descend Down Your Holy Healing Spirit
Upon All Who Are In Need Of Healing,
Both Physically and Spiritually
In Letting Them Know
How Very Much You Love
And Care For All Souls.
Thank~You Sweet Jesus,
In Your Holy name I Pray!
`AMEN!`





~*~♥~*~
CopyRights Reserved*2011*~

*©**2013*28th of February*' Revised Excerpts '....
~*Never Ending Circle Of Love Manuscripts' *~
....angelic*heavenly*star...

a.k.a.~'MJB'~

***`+`***
`I am but a star in the heavens above
guiding over you in God's eternal love
I once was a soul like you on earth now
a heavenly star in miracle of rebirth!

~*~***********************************************~*~


~*` `*~ OUR LADY OF GRACE~*` `*~