Miss Molly's Shine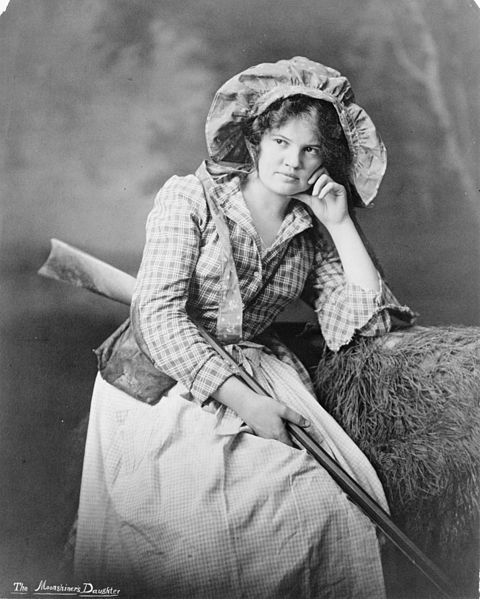 ~~~~~___ ~~~~~

The cabin sits nestled across the Tennessee line
The outhouse now leans against a stately pine
Life becomes a taper in this hill-country design
Where people often whisper about "Miss Molly's Shine

~~~~~___ ~~~~~

Clouds circling fields till the sun goes down
Fog moves in to covet the vine covered ground
She sits at the window, just a hint of a frown
Her hands shaped like commas, she looks around

~~~~~___ ~~~~~

She wears high-buttoned shoes sporting old grass stains
She's a sassy talking lady laced with blue-blood veins
Miss Molly meticulous penciling her losses and gains
She offers no explanations and never explains

~~~~~___ ~~~~~

She has her own vernacular that few can understand
She can make the best shine across any man's land
Why, she's often been caught in her lemonade stand
Selling homemade whiskey to THE undercover man


March 28th, 2014



** Author's Note **

It was suggested by my dearest friend Kathy, Sunshine 12, that I add the
basis for this story. My daddy was a pastor at a small church just across
the Tennessee line. A little town in Ft. Morgan, Georgia. The folks of this
little town were known to have moonshine in and about the hills. One evening
my daddy was telling my mom that he thought there was moonshine close by. We
lived in a little log cabin there at the time. I said to my daddy, "Daddy,
we have the moon shine here too." I just thought he meant the moon was shining.
I was around five and my brother four. We agreed, we had moon shine, too...





©2000 - 2019 - Individual Authors of the Poetry. All rights reserved by authors.
Visit My Home Page | Start Your Own Poetry Site | PoetryPoem
[ Control Panel ] [ Today's Poetry - ALL Poets ] [ Search ]