Alwaysawarrior
1,309,332 poems read
THEY NEVER CHOSE TO BE HEROES!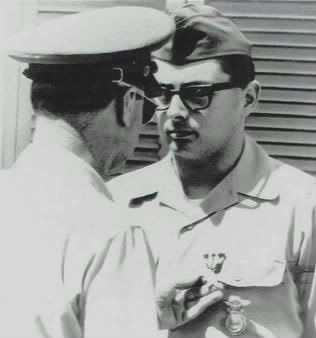 SSGT. Pete Piazza shown here receiving the
Silver Star Medal for gallantry in combat.


They never chose to be heroes on that night
Yet when push came to shove they shoved back
Refusing to let the enemy troops charge pass

They were very young just out of high school
They had not even had a chance to live life
Before they were sent to fight in the battles

Some of the older guys had already fought
And some were on their second tours of duty
They knew the realities of what would come

One such very brave man was SSgt. Pete Piazza
Who during the night the Tet offensive started
Was taking slap flares up to the bunker crews

As the massive attack started at his air base
The officer in charge of the bunker was killed
SSgt. Piazza then took over to defend the bunker

In what was called the battle of bunker hill #10
He directed support fire against enemy soldiers
Bunker hill #10 was repeatedly attacked all night

To these young airmen it was a terrifying night
It was due to SSgt. Piazza's very courageous stand
That the attack was defeated saving his air base

They prayed that God would give them all courage
They had done their jobs brilliantly that night
For many lives had depended on these few warriors

History had bore witness to their great bravery
They had fought with gallantry and determination
They would become legends throughout Vietnam

The exceptional manner in which they had fought
Would bring them all great respect and honor
From their fellow warriors of all service branches

Each had fought with the courage of a hundred men
Many times in battles they were greatly outnumbered
Their conspicuous gallantry decided these battles

For they never once gave any thought to losing
This word was not part of their own vocabulary
They had established a legacy of great courage

Now years later their own record is the model
By which today's warriors now gage themselves
And they strive to carry on these traditions

Their name has changed to the Security Forces now
But the traditions they carry on came from the men
Who served as Air Policemen and Security Policemen

Many hard lessons were learned by these warriors
And their experiences and knowledge were passed on
Today's warriors have earned our respect & honor



© Terry Sasek - Alwaysawarrior - all rights reserved.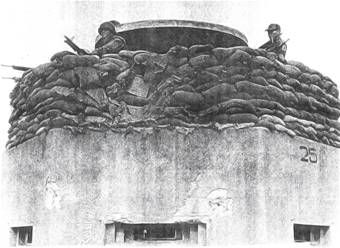 For his actions in taking over command of bunker hill #10
that night and for his brilliant defense of his position,
which had received the brunt of the main attack by enemy
troops trying to overrun his base and get to the flight
line to blow up aircraft which were parked on the ramp.
The US Air Force in recognition of his gallantry and his
courage that he had displayed throughout the night as he
guided the defense of his position from the enemy attacks
awarded him a Silver Star Medal For Gallantry. To all who
know of SSgt. Piazza and his actions that night we're proud
to say that he is another of our heroes who had upheld the
highest traditions and standards of the US Air Force. And
today it's the younger generation of warriors who carry on
with the traditions with a determination they've learned
from the best of the best that had served in Vietnam and
Thailand during the Vietnam War. It was these brave men of
the Air Force's Air Police and Security Police along with
some Augmentee Security Policemen who had left the legacy
that no base that was guarded by them was ever overrun or
captured at anytime during the entire length of the war.



Pete Piazza was elected to serve as the President of our
Vietnam Security Police Association at the association's
reunion down in Florida in October 2012. He's an excellent
leader and he has always been very dedicated to all of our
U.S. Air Force Air Policemen, Security Policemen and to the
Security Forces who are currently serving our nation around
the world, he has been doing a great job in his position as
the President of our Security Police Association and he is
highly respected by all of our members who served in combat.