Alwaysawarrior
1,309,336 poems read
SOME TRUE AMERICAN HEROES NEVER GOT THEIR JUST RECOGNITION

"U.S. AIR FORCE COMMENDATION MEDAL"

IT WAS ANNOUNCED TODAY (AUG.17TH 2015 THAT MY GOOD FRIEND AND FELLOW POET HERE
AT POETRYPOEM.COM WILL FINALLY BE HONOERED AND GIVEN A VERY LONG OVERDUE MEDAL
FOR HIS OWN COURAGE AND GALLANTRY FOR HIS ACTIONS IN SAVING THE LIVES OF THOSE
CREW MEMBERS OF A CRASHED AIRCRAFT AT DANANG AIR BASE IN SOUTH VIETNAM ON THE
NIGHT OF NOVEMBER 21, 1965. IN THE PROCESS OF TRYING TO RESCUE YET ANOTHER CREW
MEMBER JACKIE SLIPPED AND FELL FROM THE BROKEN AIRCRAFT AND THE CO-PILOT HE WAS
HELPING TO GET OUT SLIPPED AND FELL AND LANDED ON TOP OF JACKIE THEN INJURING
JACKIE'S BACK, WHICH WAS BAD ENOUGH OF AN INJURY FOR THE AIR FORCE TO MEDICALLY
DISCHARGE HIM FROM THE AIR FORCE AT 33 YEARS OLD. MANY OF US WHO KNEW HIM FROM
OUR OWN VIETNAM SECURITY POLICE ASSOCIATION WHICH IS MADE UP FROM THE AIR FORCE
MEMBERS WHO SERVED IN VIETNAM & THAILAND AS AIR POLICEMEN, SECURITY POLICEMEN
OR AS AUGMENTEE SECURITY POLICEMEN WHO HELPED OUT BY PULLING EXTRA DUTY SHIFTS
AFTER OUR OWN SHIFTS AT OUR DAY SHIFT POSITIONS AS WE WERE ALWAYS UNDERSTAFFED
DURING THE VIETNAM WAR. WE ARE ALL MEMBERS OF THIS VERY SPECIAL AND TIGHT KNIT
GROUP AND WE TAKE CARE OF OUR OWN FELLOW WARRIORS. IT HAS TAKEN MANY YEARS TO
GET TO THIS POINT TODAY (AUG. 17, 2015), BUT IT IS NEVER TO LATE TO HONOR THIS GREAT
MAN FOR HIS OWN COURAGE AND GALLANTRY AS WE ARE NEARLY AT THE 50TH ANNIVERSARY
MARK OF HIS OWN DEED OF HEROISM THAT VERY WET MONSOON NIGHT IN SOUTH VIETNAM
AND I AM SO HAPPY THAT MY GOOD FRIEND AND FELLOW POET HERE JACKIE KAYS WHO IS
NOW 82 YEARS OLD WILL RECEIVE THIS GREAT AND VERY LONG OVERDUE AWARD FROM THE
AIR FORCE. MY POEM BELOW WAS WRITTEN MANY YEARS AGO DESCRIBING HIS GALLANTRY.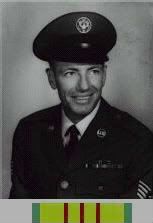 SSGT. JACKIE KAYS



Some American heroes never got their just recognition
They were just regular guys who had grown up like you
When America called these young men they went to fight

These young men who had lived next door to many of us
Had answered our country's call to fight for freedom
Not everyone sent was drafted many of us had enlisted

There were thousands who had volunteered to go serve
You hardly ever hear about these patriotic men do you
Willing to sacrifice their lives to save other people

I know many who were mere teenagers yet they were brave
They were so proud to wear the uniform of their country
Some had performed some of the most courageous acts seen

They didn't go above & beyond their duty just for medals
Although many did receive such honors for their bravery
They did it out of a sense of what was right and acted

There are many warriors I know of from my own time in Vietnam
Who have never heard to this day the phrase "Welcome Home"
If nothing else after all these years we can at least say that

There are men like SSgt. Jackie Kays who were real heroes
Yet you'll never find his name in any of our history books
He ran through a mine field to reach a crashed aircraft

Helping the crewmen get out he was injured himself too
A severe back injury ended his Air Force career as a cop
Those who know this man knows he deserved a hero's medal

Yet he was tossed aside and no longer of use to his country
He still acts as though his courage was not anything special
It was a miracle he even got through the mine field alive

He never stopped to ponder or question can I make through
The crew were hurt and trapped inside the downed wreckage
So he risked his own life and his career to rescue them all

To this very day he insists that he was just doing his duty
He says he did what needed to be done to save that aircrew
He has never asked why didn't I get a medal for my actions

This man is absolutely a true hero by anyone's definition
Yet humbly he will say it was nothing special to speak of
Everyone should know of this great American's Heroic feat



© Terry Sasek - Alwaysawarrior - all rights reserved.



Jackie Kays is a poet here at PoetryPoem.com and he is also one
of my brother members in the Vietnam Security Police Association
that consist of former veterans who served in the U.S. Air Force
as air policemen, security policemen and members from other base
units who were augmentee policemen who fought in South Vietnam &
Thailand during the Vietnam War. Augmentees served with their own
units during the day, then they pulled an extra duty shift with
regular security policemen at night to help provide them with the
extra manpower they needed out on the base perimeter to defend it
as I had done for my first two months in Vietnam. We were teamed
up with a full time security policeman manning the defensive gun
positions that defended our base from any enemy mortar & rocket
attacks or from any attempts by enemy ground troops or VC sappers
to get onto our base so they could try to blow up the aircraft on
our airbase. It was because of all these airmen's bravery and the
dedication while they served as members of the Air Force Security
teams that no airbase that had been protected by these brave men
were ever overrun by any VC, NVA or sappers that tried to attack
these airbases regularly during that entire Vietnam War.


Please pay a visit to Jackie Kays site here at PoetryPoem.com and
read his excellent heartfelt poems of Honor and please leave him a
note saying "Welcome Home" it's something each veteran deserves.
His site is: www.poetrypoem.com/jackspoems



On December 20th of 2015, Jackie was presented the U.S. Air Force Commendation
Medal for his heroic and selfless act of rescuing a crew of a crashed aircraft
that crashed outside the perimeter defensive wire of the Danang Air Base where
he was serving as a NCO in the Security Police unit there. He ran through the
base's live mine field which was a miracle in itself that he made it all the
way through it without being killed himself in his efforts to rescue the crew.
It took just over 50 years for him to finally be officially be recognized for
that heroic action which ended his own career when he was also injured from a
fall from the wrecked aircraft while he was helping a crew member who had been
injured to get out of the aircraft. Excellent Job Jackie, It is great and I am
so happy that you were able to finally see this day before the end of your life
and for you to be able to be recognized for your selfless act of heroism.














Comment On This Poem ---
Vote for this poem
SOME TRUE AMERICAN HEROES NEVER GOT THEIR JUST RECOGNITION