!!Rave On Devil Rave!!



Rave on, devil, rave!
Your time is short.
How brave of you
To aim that dart





At ones who speak
And love My Word,
Whose faith in Me
Is seen and heard.





You've overstepped
Your boundary
By touching those
Employed by Me...





Who spread My Message
To the lost...
Who will march on
At any cost!





You may torment
But on a leash.
I still control
How far you reach!





I'll prove to you
Who will endure
And that My people's
Hearts are pure.





There comes a day
When all will see
Exactly who
Belongs to Me





And who you've used
To spread your lies...
A day when none
Wear a disguise!





O, you may shake
Them up a bit
But I will never
Let them quit.





They are warriors...
Well trained to fight.
Darkness can never
Destroy the Light!





You haven't learned
You cannot force
Retreat from soldiers
Who stay the course.





You were defeated!
My BLOOD was all
The power needed
For your downfall!





So do your thing...
Go raise some hell.
It's the only thing
That you do well.





But I've set a time
You won't be brave...
The time is close...
So rave, devil, rave!

Presented By
Doris Jacobs-Covington
March 16, 2010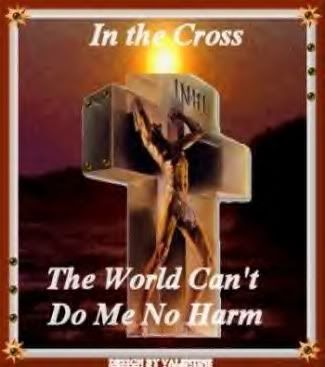 ******************************************
"Beloved, do not think
it strange concerning the
fiery trial which is to
try you, as though some
strange thing happened
to you.
But rejoice to the extent
that you partake in Christ's
sufferings, that when His
glory is revealed, you may
also be glad with exceeding
joy,"
1 Peter 4:12-13
*********
Additional Scriptures Added by Pastor Linda Begley
for the exhortation of the church.
Hebrews 2:1-4
1 Therefore we ought to give the more earnest heed to
the things which we have heard,
lest at any time we should let them slip.
2 For if the word spoken by angels was stedfast,
and every transgression and disobedience
received a just recompence of reward;
3 How shall we escape, if we neglect so great salvation;
which at the first began to be spoken by the Lord,
and was confirmed unto us by them that heard him;
4 God also bearing them witness, both with signs and wonders,
and with divers miracles, and gifts of the Holy Ghost,
according to his own will?

2 Peter 1:20-21
20 Knowing this first, that no prophecy of the scripture
is of any private interpretation.
21 For the prophecy came not in old time by the will of man:
but holy men of God spake as they were moved by the Holy Ghost

2 Peter 3:16-18
16 As also in all his epistles, speaking in them of these things;
in which are some things hard to be understood,
which they that are unlearned and unstable wrest,
as they do also the other scriptures, unto their own destruction.
17 Ye therefore, beloved, seeing ye know these things before,
beware lest ye also, being led away with the error of the wicked,
fall from your own stedfastness.
18 But grow in grace, and in the knowledge of our Lord and Saviour
Jesus Christ. To him be glory both now and for ever. Amen.
2 Tim.2:19
Nevertheless the foundation of God standeth sure,
having this seal, The Lord knoweth them that are his.
And,let every one that nameth the name of Christ depart from iniquity.

2 Tim.2:2-4
2 Preach the word; be instant in season, out of season;
reprove, rebuke, exhort with all long suffering and doctrine.
3 For the time will come when they will not endure sound doctrine;
but after their own lusts shall they heap to themselves teachers,
having itching ears;
4 And they shall turn away their ears from the truth,
and shall be turned unto fables.


******************************************