The Vision


The vision came in vivid color
With a panorama view.
My eyes darted in all directions
Beholding beauty in each hue.



Surrounded by a sound unlike
I had ever heard before...
So supernatural... on a scale
That demanded an encore!



My eyes, not well accustomed,
To such absorbing Light,
Stared in childlike fascination
At this overwhelming sight!



To count them would be useless
I calculated in my mind.
The numbers would be staggering...
Such figures couldn't be combined!



Rows of regal-like Raptured Saints
Seemed to fill each inch of sky...
Seated on shimmering white stallions
With royal banners lifted high.



Impressed to read the words imprinted,
I could hear my heart applaud...
For upon each banner waved the words
"JESUS CHRIST IS LORD!"



To loud shouts of halleljahs
A familiar figure took the lead.
He motioned me to follow...
Handing me a handsome steed.



Mounting I saw and recognized
The scar in His outstretched Hand.
Revelation became reality.
The Word of God took full command!



Behind those eyes of flaming fire
Burned a love for all mankind.
I sensed it saturate my spirit...
I felt it flood my entire mind!



King of Kings and Lord of Lords
Was written upon His robe.
On His Head sat many crowns...
Jewels for each spot on the globe.



Carried by a Cross-shaped cloud,
I watched the world look up to Him!
But the vision ended so abruptly
As we approached Jerusalem!

Lovingly Presented,
(c)Doris Jacobs-Covington
May 7, 2009

"Now I saw heaven opened, and behold,
a white horse. And He who sat on him
was called Faithful and True, and in
righteousness He judges and makes war.

And His eyes were like a flame of fire,
and on His head were many crowns. He
had a name written that no one knew
except Himself.

And He was clothed with a robe dipped
in blood, and His name is called The
Word of God.

And the armies in heaven, clothed in
fine linen, white and clean, followed
Him on white horses.

Now out of His mouth goes a sharp sword,
that with it He should strike the nations.
And He Himself will rule them with a rod
of iron. He Himself treads the winepress
of the fierceness and wrath of Almighty
God.

And He has on His robe and on His thigh
a name written:
KING OF KINGS
AND LORD OF LORDS."
Revelation 19:11-16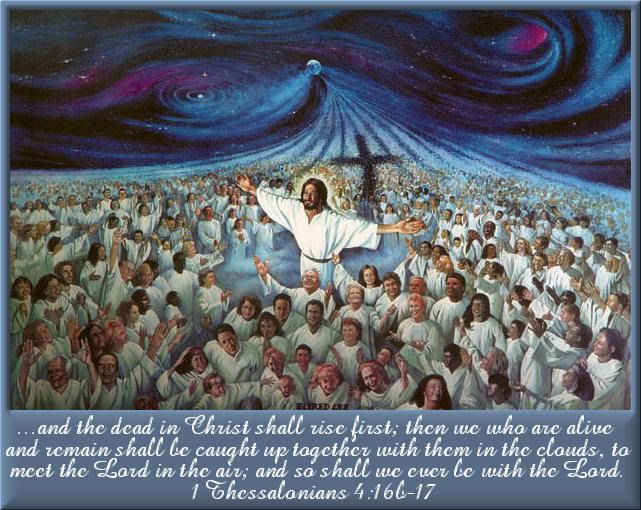 ©2000 - 2022, Individual Authors of the Poetry. All rights reserved by authors.
Visit My Home Page | Start Your Own Poetry Site | PoetryPoem
[ Control Panel ]
[ Today's Poetry - ALL Poets ]
[ Search ]